The last PPC campaign I analysed in the 'Analyse A Real PPC Campaign' series was from GAME, who had a good search advert targeting the, in demand, Nintendo Switch. However, it was let down by a poor shopping results landing page with the console overpriced when compared to the RRP value.
A market that has developed since everything has gone online has been the sheet music market for musicians. With this, here is an analysis of a PPC campaign from Music Notes.
To view Music Notes PPC search advert, I had to type into Google search UK, 'buy piano sheet music':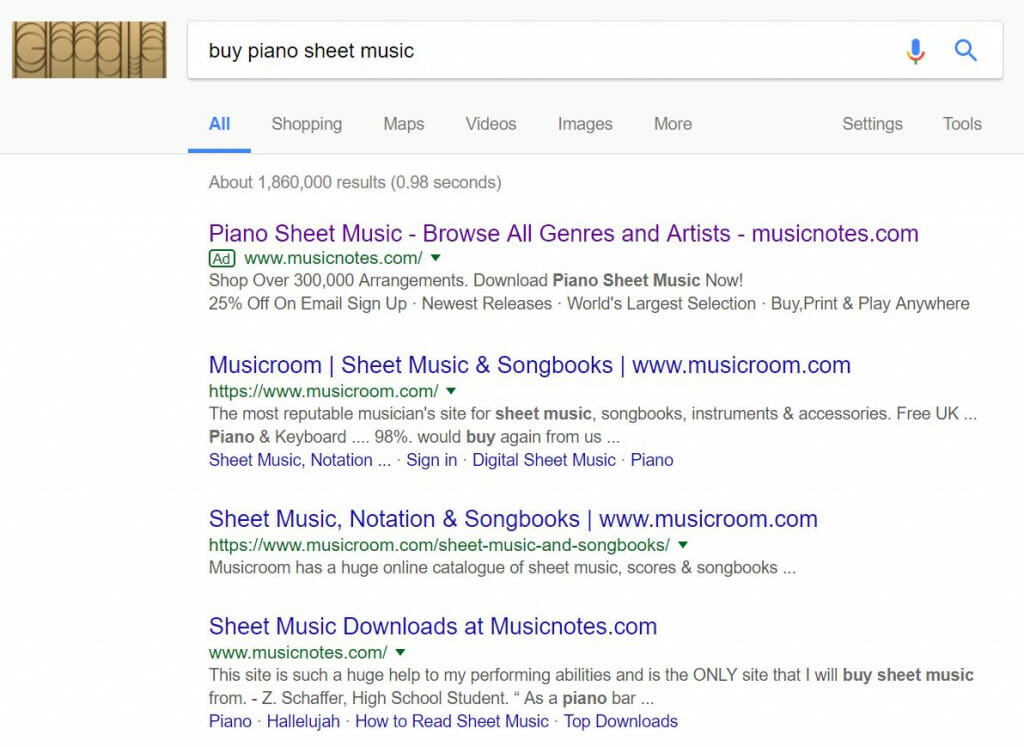 Straight away, the first thing I notice is that, organically, Music Notes already rank 3rd with site links below the description for the result – this is good SEO from them to get such a good ranking for a contextual and important search phrase.
Saying this, 3rd still means there are two competitors above them. For this reason, it makes sense for them to produce a PPC campaign for such a search phrase:
Music Notes will be taking traffic away from the two competitors above them.
The competition is extremely low for such a search phrase, due to the fact there is no other competition in paid search results. This will make the CPC of the advert low and the campaign, on the whole, cheap to run.
The description and title of the organic search result is not that good. Therefore, another reason to have a paid search result is to utilise the title and description better, for which Music Notes have done.
Looking at the advert itself, it can be considered quite simplistic for a search advert, with a lack of any ad extensions. This is an interesting technique since it makes the advert look more like an organic search result than a paid search result. This will help it 'blend' in more with the organic results.
After clicking on the above advert, I came to the following landing page:
Another reason for making a PPC campaign for the above search phrase is to allow a more targeted landing page from Google – the organic result lands onto the homepage of Music Notes whereas the PPC advert lands onto the above page, which is targeted specifically towards piano digital sheet music.
The landing page, on the whole, is 'okay'. I say this because the landing page has good and bad points associated to it:
There is a lot of wasted space in the middle of this page, which could have been better utilised.
The 'Moana' sheet music is something only certain people will like to buy – Music Notes have gone to targeted here.
However, below the fold of the page, there are slideshows of sheet music, from most popular, to recommended and newest. This will help the web user scroll through sheet music they might like to buy.
The search bar in the middle of the page is a bit redundant because there is always a search bar at the top of the page.
However, the search bar at the top is extremely good. Upon clicking on it, the results below appear, with images, to see if Music Notes has the sheet music you searched for. It's so good that I feel it could have been better utilised for this landing page.
After completing a Masters degree in Automotive Engineering with Motorsport, Will moved on to work at McLaren. He created AskWillOnline.com back in 2010 to help students revise and bloggers make money developing himself into an expert in PPC, blogging, SEO, and online marketing. He now runs others websites such as PoemAnalysis.com and RestoringMamods.com. You can follow him @willGreeny.