As online marketers and site owners there is nothing we love more than seeing some juicy web stats and earnings! I know Miley Cyrus has not a care in the world for analytics and site tracking but I'm sure she is extremely pleased with the latest numbers from her new video release.
Miley Cyrus and VEVO have broken the record for most video page views with over 15 million in the past 24 hours… and the numbers aren't stopping!
If you take a look at the current "Hot Searches" on Google Trends you will see Miley Cyrus and "Wrecking Ball" right up there with over a million searches.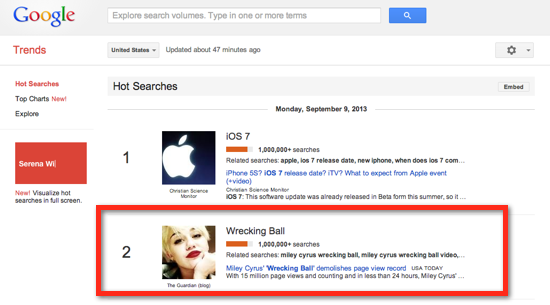 VEVO, which has over a million followers through Twitter has been quite excited about all the traffic and record breaking video.
In addition to having VEVO provide a nice amount of coverage on the video release, Miley and her "Official Miley Team" have been pushing the video promotion as well.
Seeing Miley Cyrus is the news is nothing new ever since he crazy performance at the MTV Video Awards. Since then her social following and record sales have been off the chart.
I recently wrote about Miley's success and how it was likely all planned to work out this way in my Brand.com post. Miley currently has over 13 million followers and has seen a massive increase in all of her social networking outlets, climbing the ranks in record sales for her new album and also getting a ton of free publicity that money and press releases can't buy in the process.
What's next for Miley and her controversial wave of success? Only time will tell, but as online marketers and stats junkies we will be some of the firsts to find out!