When it comes to making money online through affiliate marketing, you have a lot of choices. Over the years we have seen a ton of affiliate offer and niches come and go. One of these sectors that continues to make money year after year, is the pay day loans market. There will always be people who need money, and with all of the heavily funded ad campaigns available to affiliate marketers, this is a niche that is sure to continue to pay off for many years to come.
In the world of affiliate marketing and online advertising, it's best to specialize in one area and be great at what you do. That is the exact concept behind LeadsMarket, who's main focus is to help affiliate marketers make money by promoting pay day loans offers. Lets take a deeper look into the world of pay day loans and how you can start making money as a LeadsMarket affiliate.
Why is Pay Day Loans a Good Offer to Promote?
As mentioned earlier, pay day loans is a growing business that isn't going anywhere any time soon. People are always going to spend money and with the economy the way it is, people may need money more than ever, and pay day loans is one of the many methods for people to get their hands on it. Promoting pay day loans is just like any other service or affiliate offer out there. You just need to get the advertiser landing pages in front of the right people. LeadsMarket currently offered two different landing pages for their pay day loans offers. You can see them both below.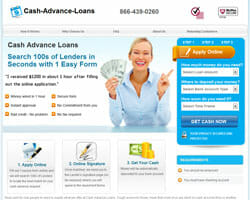 What is LeadsMarket and How Does it Work?
As you already know, there are plenty of affiliate networks out there on the market. However, many of them have hundreds or even thousands of offers, which means they are probably spread too thinly on what they specialize in. LeadsMarket specializes in the pay day loans market, so they are able to teach all of their affiliates how to promote and make money with pay day loans offers.
When you sign up as an affiliate with LeadsMarket, you will have full access to their affiliate area, along with all of your account details and affiliate urls and creatives. You can see a preview of what you can access in the screenshot below.
While there are many ad networks and affiliate solutions that you can run pay day loans through, LeadsMarket has an excellent team that is willing to work with you and help make you money along the way. Pay day loans offers have often been scrutinized for their "ethics" and even have been under regulation for their advertising methods, but this doesn't mean it should be looked at any differently from other affiliate offers and ad campaigns. It can actually swing the monetization efforts and roi in your favor. If you take the time to research any financial and pay day loans related offers, you will find that the most successful marketers in this niche are heavily rewarded with high margins for their time, patience and efforts in mastering their niche and ad campaigns.
If you would like to learn more about pay day loans and how to make money promoting them online, be sure to join the LeadsMarket network and get in touch with Michael Parshin.