I continually mention on this blog how there are a few niches that will always make money. Dating is one of those niches that will just never die. No matter how you look at it, there will always be different angles for you to promote dating offers and there will always be single people in the world looking for online dating services. Another reason why dating offers are now more attractive than ever, is simply because it's so easy to target users based on their sexual preference, their age, location and if they are single or not. The dating niche is just as hot today as it has ever been before.
One network that knows the power of online dating all too well, is Dating Gold. While most dating sites focus on general audience, Dating Gold is more focused on the more "risque" lead generation and dating sites. Dating Gold has four big sites that they focus all of their efforts on. From the very popular and well established sites like AmateurMatch, to unique niche audiences like WebCamClub and also traditional dating web sites like Spice or Nice, which caters to more of a "sexy" audience, but not as adult as the other names in the dating portfolio.
You can see a listing of each of these different dating sites below, along with their very competitive affiliate payouts and rev-shares for each.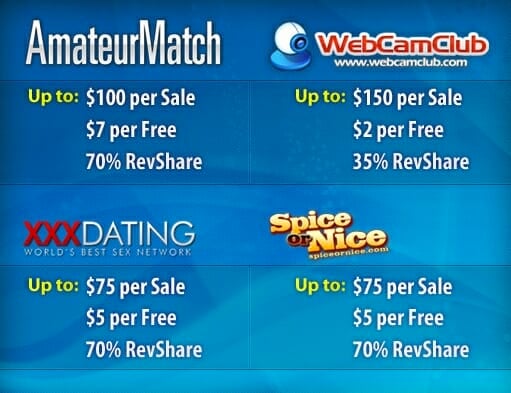 Depending on the type of traffic or web sites you are currently running, there is a different offer that will convert best with your audience. It's also important to build your own custom landing pages to promote each of these offers, as you can target in on user demographics to increase conversions.
Dating Gold Creatives and Promo Tools
Once you are logged into your affiliate account, you will have full access to all of the creatives and promo tools that Dating Gold has already created for you. The process is quite simple. First you select the offer that you would like to promote, then the payout structure, campaign and creatives, your landing page and then you can review all of the creatives you just selected and start using them for your promotions. There are even some white label campaigns and creatives that you can use to promote and build out your own offers.
When going through the creative process, you will notice that Dating Gold has a wide selection of creatives for you to choose from. Everything from text ads, banner, hosted galleries, peel ads, wordpress themes, pop unders and even Google maps to help better display your geo-targeting options.
Creating Dating Landing Pages That Convert
I recently wrote a post called 7 Kick Ass Dating Landing Page Tips, which covered a wide range of offers and landing pages in the dating niche. One of the landing pages profiled was for AmatuerMatch, and it was pointed out how easy they make their landing pages and increase conversions with a quick gender and zip pull down to get the user right into the sign up process. Be sure to look through the full post to see the many different ways that you can build dating landing pages to convert to nearly any niche audience.
If you are a seasoned veteran in the online dating niche, or just looking to get started, the Dating Gold team has built their ad network into one of the most successful and competitive ones around. They would love to have you as one of their affiliates and will help you create and build you first successful ad campaigns.