Do you WRAP? Want to make more money?
If you don't WRAP you probably should but I guess an explanation of what «WRAPING» is would be in order.
Let's ask two more questions first:
Do you have a website? Corporate, Affiliate, Social Network site?
Do you send emails?
If you answered YES to those two questions, which I guess most would, then you should indeed WRAP.
So what is a WRAP? A WRAP, developed by WRAPmail, Inc., is what could surround every email you send anyway. A WRAP is like a picture frame but the images are in the frame and in the case of email the text is in the middle. Since you do have a website and since you do send emails why do you not promote your business, yourself or anything else for that matter at the same time? Makes sense, right?
Here are a couple of WRAPS, all images have embedded links, all images show up right away (no need to download them) and all text and images have embedded links right back to various websites: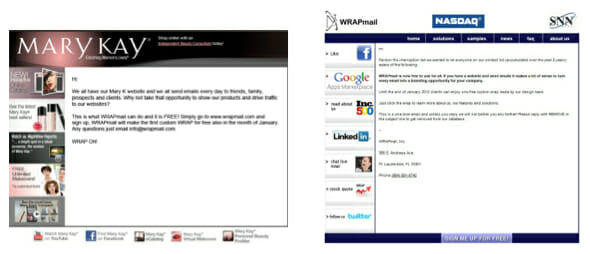 What's also pretty cool about this is that all the links are tracked so you will know instantly when somebody clicks.
Now, even better: It is FREE if you accept 3rd party ads above or below the WRAP. Before you say nahhh note that WRAPmail will pay YOU 25% of the ad revenue generated from the emails you send! Still say no to ads then its 50 bucks a year.
You design the WRAP in the included WRAPmaker, as many as you like. You can pick when to use which or if you're more people in your company you can rotate WRAPS or set specific WRAPS for specific senders.
Make more WRAP money, become a WRAPmail affiliate.
WRAPmail is about to launch an affiliate program where you can make money on all the others you get to sign up with your code. Think about it; who do you know that does not have some kind of website (Facebook counts!) and does not send emails? Not too many. Pretty easy pitch, right?
Think of all the people you know and how they could use WRAPmail. A Network affiliate could make a WRAP from their unique website. A realtor could feature properties for sale. A company could feature products, specials and services. An individual could feature their Facebook page. An insurance agent could feature all the various insurance offers. You get the picture?  One could make an interactive invitation-WRAP, a hobby-WRAP, a vacation-WRAP, a wedding-WRAP, a resume-WRAP, a sports-WRAP, a college-WRAP and the list is endless, only limited by creativity.
Think about it again: You have one or more websites, you send emails every day, and you would like to make more money. Seems like a no-brainer when you can make money every time you send an email, doesn't it?
Give it a test run for free, just go to http://pro.wrapmail.com/signup/. Got questions, just email [email protected]
This guest post was written by Rolv E. Heggenhougen of Wrapmail.com.