Potentially, this is the million dollar question if it can be answered right and used effectively. Millions of bloggers and website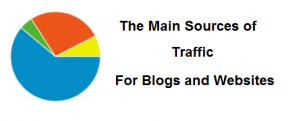 owners around the world will be constantly trying to find ways of gaining traffic to their website so that it ultimately increases their online presence and increases the revenue produced from that website. Only problem with this, though, is that it is harder than it sounds. For this reason, here are the main sources of traffic to a blog or website.
SEO and Organically
SEO is no doubt the biggest source of traffic for blogs and websites. Getting a high ranking for a crucial and searched for keyword phrase can do your website a world of good. For example, my website, AskWillOnline.com, gets around 30% of its traffic just from one well search engine optimised article! It is crazy how much SEO contributes to website's traffic. Learning good SEO practice is important. Click here to find out more.
Social Media
With more and more people using social media sites such as Facebook, Twitter, Google +, LinkedIn and more, it makes clear that there is huge potential to gain lots of traffic through social media. I have to say that Facebook is the biggest culprit of this at the moment since there are loads of websites that are gaining through the Share function Facebook offers. Social Media traffic mostly happens naturally. Saying this, though, you can promote traffic yourself to followers of social media pages linked to your website to give your website that extra boost.
Email Marketing
Email marketing is a great way to continually bring in high quality traffic to your website. The great thing about email marketing is that you know they are interested – you have won them over already and now need great email marketing to keep them interested. To gain traffic through email marketing, you need a solid strategy. There will be some people that don't stick to schedules on when they send emails out – this is wrong. Email marketing should be done on a timed basis per week/month or whatever and in moderation too: you may struggle to put high value and relevant content into an email every single day (as well as this, you will probably annoy your audience for continually blocking their inbox up).
PPC
Yes, pay per click advertising can be one of your main sources of traffic if you want to advertise your website online. Since PPC is so versatile, you can achieve short term or long term traffic depending on what you and your website's targets are. To gain effective amounts of traffic for a reasonable budget through PPC, the best thing to do is use websites such as PPC.org to learn how to create a campaign that will gain you high quality traffic and a high conversion rate (for what ever you deem a conversion).
Feel free to look around PPC.org at the hundred and hundred of articles we have here all about pay per click aaadvertising, online advertising and blogging.