As a PPC Expert I'm always trying to network my way in with people in the PPC community.  Today I had the chance to meet up and have lunch with Ian Lopuch, a good friend and person I've known for a long time since my old affiliate marketing days.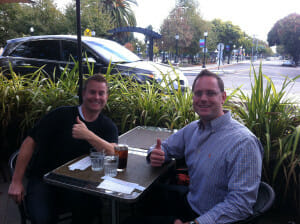 Ian is the founder of http://www.ppcian.com/ an online PPC marketing blog that teaches different tips and tricks to help the big boys in PPC.  Ian is Vice President, Search Marketing at a publicly traded company.  It's incredible to talk with other PPC experts and get to know what they're doing and needing.  It's also fun to see what software they are using and what's really working for them.
I've had the chance to use a lot of different PPC software in my day.  It's always good to hear that people are still having good luck with some of the top PPC software that are currently on the market.
Great doing lunch man!
John Rampton is a PPC Entrepreneur, Author, Founder at Due a finance company helping small business owners. Follow me on Twitter @johnrampton