Ever since Google wiped out BuildMyRank, web site owners that are looking to build incoming one way links to their site are on the prowl for the next best solution. One of the link building services that is catching the eye of many site owners is a network called Link Authority.
What is LinkAuthority.com?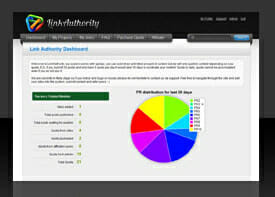 Link Authority is much like the BuildMyRank concept, except they are free for users to join but also offer an upgrade option for anyone looking to submit a lot of content. Link Authority has built up a massive collection of blogs that are ranked with a minimum Page Rank of 2. In addition to their own network of sites, Link Authority allows their members to submit blogs of their own to post content to.
To concept behind the site is simple… submit original high quality content and get a link back to your web site from one of the Page Rank 2+ sites in the blog network. The minimum words per article is 200 words, and if you submit an article with 300+ words you can include three links within the article.
How Much Does Link Authority Cost?
As mentioned, Link Authority is free for anyone to use but there are limitations on how many links and articles you can submit through the site. To increase your daily quota on submissions, you can either submit your own blog sites to include in their network of blogs, or you can simply pay a monthly rate based on how much you want to increase your quote.
If you want to add your own blogs to increase your daily quote, the amount you receive will depend on the Page Rank of your site. Since Link Authority only accepts blogs with a Page Rank of 2 or higher, quality is a must when they are accepting sites. Below is a break down of how much your quote would increase with a blog submission to their network.
Add a PR 2 site and increase your submission quota by 2 per day
Add a PR 3 site and increase your submission quota by 3 per day
Add a PR 6 site and increase your submission quota by 7 per day
If you don't want to add any blog sites to the network, you can simply upgrade your account. The average price per daily quota submission is around .30 cents, but this will vary on the amount you decide to purchase. The higher the limit, the less you will have to pay.
Link Authority Review and Recap
With more people looking to increase the amount of one way incoming links to their web sites and the recent closure of BuildMyRank, I am sure Link Authority will see a massive increase in signups and users over the coming weeks. Two huge benefits that Link Authority has over BuildMyRank is that they only offer links from blogs with a Page Rank of 2 or higher… which means you don't need to waste articles and get a lousy PR1 link back. And of course the other huge incentive is that it's free to join.