So, Google has made it clear that it is not going to give you any clear headway when it come to getting an idea about your website's probable targeted keywords by obfuscating search results for logged in users. That means, you are not going to have the vital details about what people are searching for in Google when they are logged in, as Google is adamant on giving more attention on users privacy rather than showing its concern for the pains and troubles faced by marketers like you and me. So, if you are still using Google Keywords Suggestion tool or trying to gather details on the pattern via Google Analytics, you will find that the search volume have plummeted like anything else and this could mislead you to go for the wrong bunch of keywords. So, the time is up to find another powerful alternative of Google Keyword Suggestion tool if you are to find out the most relevant keywords for your online marketing campaign.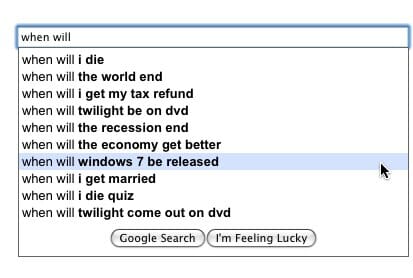 Google Suggestion:This one gives you an accurate idea of what people are really searching. However, you need to put on the shoes of a general user and try some terms, not keywords please, in Google. What you see? Yes, Google Instant is automatically coming up with a bunch of suggestions. Some experts are of the opinion that a vast majority of people searching in Google love to try Google Auto suggestions and that means, if you choose keywords from the available suggestions, there will be greater possibility of getting the real visitors that convert. So, try some terms at random and take your pick from the auto suggestions and your website will have a bigger and better presence in days to come.
Find Solace Somewhere Else: Fed up with Google and trying to find solace somewhere else. Well, in that case some other keyword suggestion tools. For say, Wordtracker is a great option to give it a go. Now those of you who want to have the best of all the worlds, Keyword Discovery is the solution they are looking for. I have tried it personally when i was doing keyword research for my blog and it does give some good suggestion and come up with some keywords related to discount istockphoto promo codes. "" is the most sophisticated tool you might have ever tried your hands on.  This is another powerful optimization tool that only works with Microsoft Office Excel. Are you finding it hard to get hang on it? Well, in that case, you can try SEO Book Keyword Suggestion tool.
Google Global Market Finder: This is another tool that few of us hardly use when it comes to keyword research rather we dote on Google Keyword Research Tool. Though this tool uses the same database for presenting information, Global Market Finder gives you the best opportunity to come up with real keywords and their competitors in a single click. Moreover, you will have bunch of related keywords and the icing on the Cake is that you will have country specific competition and related keywords.
Google Trends: This tool though not directly related to keyword research, it can give you fair idea of what people are search with if you are targeting an event or if you wish to rank high for long tail keywords. Just try some terms randomly and it will you give you related keywords. The only chink in its armor is that the key phrase needs to have high search volume otherwise this Keyword suggestion tool will not turn up anything positive.
Google Insight for Search:  This tool works and looks more or less like Google Trends but it has some other advantages. Like you can compare the search volume of two separate keywords and even sort them based on specific categories, properties, regions etc. You can find search volume and have an idea of the search pattern. Moreover, you can check for search volume against Web, Image, News and Product search, which is certainly a novel concept to give you access to deeper analysis.