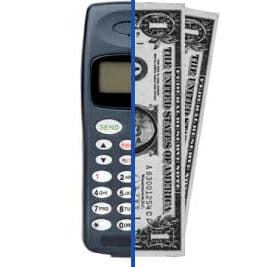 Google announced earlier today the ability for advertisers to bid for phone calls in addition to bidding for clicks using AdWords.  This is scheduled to rollout over the next couple weeks in the US and UK.  The bid per call search ads will only work on computer and tablets for now.
Bid-per-calls will work much like your regular AdWords bidding.  It will factor in your maximum CPC bids, CTR, Quality Score into your ad rank and put you higher in results based on ranking these together.
Bid-per-call ads works in AdWords by assigning a toll-free forwarding number to each advertiser and putting it in their ad text. When a user searches your ad and calls the number, AdWords will register the call and forward it to your business. When the users calls, Google will let you see the call time, duration, area code, and ad group that drove the call in the Dimensions tab.  In addition to showing this information it will show you the phone-through-rate (PTR) and cost of the call.  This will help you to track everything and know if this is something that you should be using or not.  Everything will be reported in Adwords reports.
One interesting thing about the bid-per-call system is that Google will be charging if a person calls and if a person clicks for the same ad.  Now the chances of a new user coming to your website have been doubled while also doubling the chance that you're going to be paying Google money for every ad that is served. This is another ploy for Google to make more money while helping out local businesses.  Last week we reported about Dynamic Search ads and AdWords Express in the UK, both of which are ways that should work with the new bid-per-call system allowing users to get more local traffic to their business while earning Google more money in the process.
In order to qualify for this program you much meet certain click and call thresholds.  Click-to-Call ads are driving millions of calls to businesses every week.  The average call using the current click-to-call mobile and desktop search ads lasts on average six minutes.  This should help many local businesses.
John Rampton is a PPC Entrepreneur, Author, Founder at Due a finance company helping small business owners. Follow me on Twitter @johnrampton