from banner advertising, this article will maintain looking at the internet. Microsoft are the giants in modern day technology along with Apple. Interestingly enough, Microsoft have made a PPC campaign to promote their web browser: Internet Explorer. Although computer's that run Microsoft come with Internet Explorer already installed, Microsoft feels there is still a market to advertise their web browser too. A reason for this might be:
More and more people are buying non-Microsoft laptops/computers. Therefore, they need to entice them into using Internet Explorer rather than others such as Chrome and Firefox because Internet Explorer won't be installed onto the non-Microsoft computer/lapto.

A new rule that was introduced stated that Microsoft should give laptop/computer owners of Microsoft the ability to un-install the program increasing the competition in the web browser market (it is not just dominated by IE).
To find the PPC campaign on IE, I typed into Google, 'web browser':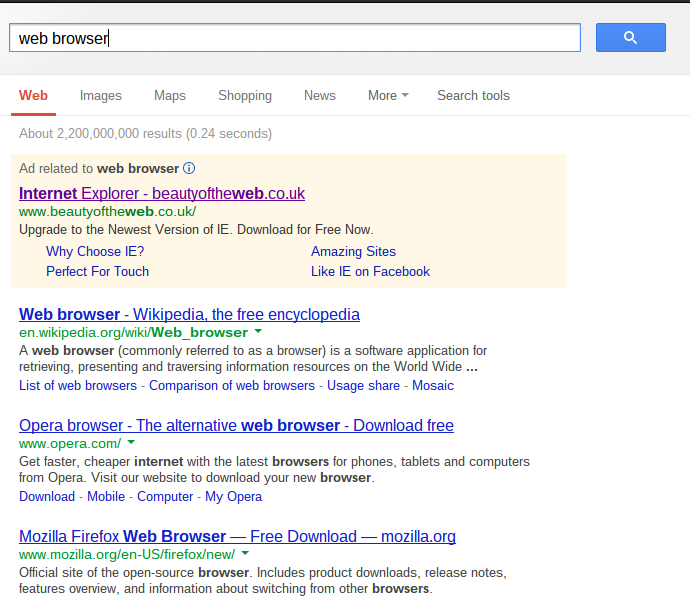 What I found interesting about this is the fact there are no other PPC adverts on this search results page other than Microsoft. Why? Well, have a look at the organic search results below the advert. If I continued the image to show the other search results, you will find that the first Microsoft-based page is the 8th link down. That is pretty bad for Microsoft. For this reason, I guess they needed to move their web browser further up the list. They could do this organically but results will vary if there are any results. PPC is a much safer solution to get top spot on Google.
Looking at the advert itself, Microsoft have tried to associate Internet Explorer with being the epitome of the 'beauty' on the web. Seeing that web browsers are chosen by web users on mostly how they look, this will appeal to lots of people that Internet Explorer is associated with 'beauty'. It is also clear Microsoft have used some power words such as 'upgrade, newest, free' and 'perfect' to encourage the web user into a click. They have also implemented social media into their advert by requesting a call to action, 'Like IE on Facebook'.
After clicking on the advert, I came to this landing page:
This landing page is a nicely designed page using large buttons and a nice simple colour combination to attract the web user to explore the page. After all, this landing page's aim is to encourage the web user to download Internet Explorer. Therefore, it's objective is to highlight the benefits Internet Explorer has up for offer. What Microsoft have done is pretty clever. By associating their web browser with something that will go on a tablet, web users give the browser the stereotype that it will have multi-touch features and a fluid interface like most apps on tablets. Therefore, if the web user is on a computer or laptop, they will think more about downloading Internet Explorer as if it is on tablets, it must be easy to use.
Like most campaigns, Microsoft has added '?utm_campaign=UKBOTW&utm_source=SEM' to the URL so they can measure the performance of the campaign. Therefore, to sum up:
Microsoft's poor SEO performance for 'web browser' has made them become the number one spot through PPC.

They have implemented social media into the campaign for maximum traffic.
The landing page is designed to make the web user explore the web browser's functionality.
They have installed code to measure the performance of the campaign.