If I am to ask a pay per click advertiser what the most important statistic is in PPC, I am sure the answer will vary. Some will say it is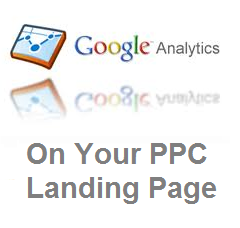 the CPC while others may say it is the CTR of the actual advert. However, the underlying fact is that the most important statistic is the conversion rate. After all, it is the statistic which will earn you the money in the end. For this reason, it is important to monitor the conversion success rate of your landing page through programs such as Google Analytics. Google Analytics can help you view every statistic about your landing page to make your campaign run just that bit more efficient.
The first question that should be answered is why should you exactly use Google Analytics on your landing page?
As I have already said, it gives you the opportunity to measure your conversion rate accurately. 

We all know that when it comes to being online, the best out there is Google when it comes to PPC. Therefore, it is clear Google have adapted Analytics to work with PPC campaigns. Out of all the analytical programs out there, Google Analytics is the best for PPC landing pages.
It provides most other statistics too such as impressions, pages/visit, bounce rate, exit rate and more. These can all prove to become very useful to a PPC campaign.
You can use Google Analytics to measure the performance of multiple experimenting PPC campaigns alongside each other. From this, it is then possible to improve nearly every aspect of your campaign and landing page.
However, I would have to provide a warning when using Google Analytics (this is not a drawback to just Google Analytics, but every program that asks to implement a <script> onto your landing page's HTML). I found that when using Google Analytics for my own website AskWillOnline.com, I saw a significant difference between the stats Google's Blogger showed me and what Google Analytics showed me. After alot of experimenting and research, I found that Google Analytics only ever records the stats of web users that do not use ad blockers. This is because the Analytics code is a <script> and ad blockers block all <scripts> from showing (which are mostly adverts). Therefore, what you will perceive to be the true statistics of your landing page might not actually be true.
The only benefit I can say is that these 'ad blocker web users' should not affect your campaign too much because to get to your landing page, you need your advert to be clicked on. For it to be clicked on, it needs to be either on a publisher's website or Google search results. The web user with ad blockers running will not be able to see the advert and therefore enter onto your landing page. The ad blocking web users affect your landing page's Google Analytic statistics the most when the source of traffic to the landing page is from adverts appearing on places ad blockers cannot block: search result adverts.
After completing a Masters degree in Automotive Engineering with Motorsport, Will moved on to work at McLaren. He created AskWillOnline.com back in 2010 to help students revise and bloggers make money developing himself into an expert in PPC, blogging, SEO, and online marketing. He now runs others websites such as PoemAnalysis.com and RestoringMamods.com. You can follow him @willGreeny.