It only takes half an hour to build a blog, but making it successful is the toughest part of it. It is not that easy to shot it to fame, it takes years to make it happen and sometimes, despite your best efforts, you might find it really hard to get tons of visitors steadily. Since the visitors are the one and only source of generating revenues via blog posts, you need to try every possible metrics. Now, do not turn to fluffy articles that transpire to provide really insightful information as to how to increase number of visitors to your blog. There are some hidden gems, which you need to discover, if you are to see your blog gaining strength to strength. Here we are going to share both traditional techniques and secret tips that may come to your help in your journey to become the owner of a successful blogger: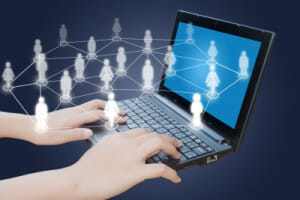 Produce Sharable Content: Well, bloggers can write anything from bill board to business but this does not mean that all of their articles will get thousands of facebook likes and tweets. It is not just about producing great content, you need to make it look like a great article by adding a really nice title that adds to the curiosity of the readers, don't be evil though and the writing style should be in line with the users' perspective and should have every ingredient of hooking the attention of the users. But if this proves insufficient, you need to put some extra efforts into it like adding some great infographics, publishing awesome video etc and you will see the social share graph in Google analytics is shooting through the roof.
Participate: There is no better way to get targeted visitors than participate in targeted communities. However, there is some market research involved. Once you have the list of communities where your targeted visitors are most likely to gather, start precipitating. Now, don't be a stupid. I have seen many bloggers posting URL of their blogs at the bottom of their comments. People are smart these days and therefore, if you indulge in such practices, you are sure to invite a ban from the administrator. Be a 'law abiding citizen' of web and post some really great comments, and you will have a better world to live.
Make the Posts SEO Friendly: Fed up with Panda, but there is no getting around. Your blog cannot monetize its full potential unless and until it is being graced by Google. And believe me, it is not that tough to win the love and favor of Google. Just do not indulge in any surreptitious activities like spamming forums, blogs or buying links to manipulate ranking of your website or producing thin content and you will not have to fear the Panda anymore. And make sure that you are following the basic of optimizations, like using robots.txt file to block irrelevant pages, fixing error pages, redirecting non www versions of your website to with www version etc. I hope your blog will be able to get to the top of ranking.
Include Blog Link in Email Signature: As you are a blogger, there is great likelihood that you have great contacts. Why not use this huge contact list to promote your blog. However, I am not asking you to send emails to them individually to get your blogs reviewed by them, this is another form of spamming. All you need to do is to add a link to your blog and see the result. People will automatically click the link out of sheer curiosity and you see a steady increase in the number of subscriber.
Use Google Analytics: Google analytics is the best tool out there for bloggers to check the statics. You can check where the visitors are coming from, how much time they are spending on each post, where they are navigating to, the stats related to bounce rate and all that. You can create advanced segmentation to figure delve deep into the details.
Do Guest Blogging: This is best option out there to get some visitors from other blogs of similar niche. But make sure that the content you are going to publish in other website is great in quality otherwise, people would not care to check who has written the post and click onto the link. Do justice to the opportunity given and you have the reward at the end.
Author Bio:
Michael Evans has been working as a content writer, SEO analyst and web designer for the past few years. He is a passionate writer and loves writing on facebook marketing, Facebook templates and other social media topics.