Pay per click advertising is no doubt the best way to advertise anything online to a targeted market. However, I find that you can use social media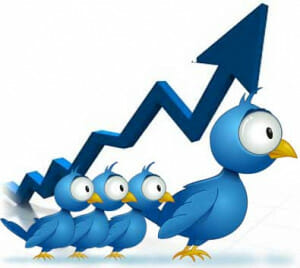 websites such as Twitter alongside your PPC campaign to help boost your results. For example, by installing social media buttons onto your PPC landing page will give web users the opportunity to share your landing page with other people that will have similar interests to the web user (therefore, giving you many more impressions and possible conversions). The only problem, sometimes, is that you might not want to display social media plugins on your landing page especially if your follower account for Twitter is not that high. Therefore, to make your business look popular and professional, here are some easy ways you can increase the follower count of your Twitter profile.
Schedule Your Tweeting
The main reason people follow others is so they can see that person's tweets and the main reason why people unfollow is because their timeline is spammed by tweets from just one person over and over and over again. For this reason, always schedule your tweets. For most Twitter users, three tweets a day spaced out in the morning, lunchtime and evening will do plenty.
Make A Great Profile Page
When Twitter users first click onto your profile page, you need to make sure that it is all completed and to a high standard at that too:
The profile picture for most businesses is their logo.
Make sure you have a short but accurate description describing to the web user everything they need to know about you.
Include your website and a vague location.
Always remember to choose a good username too without any underscores or numbers (and is easy to remember too!).
By making a great profile page will encourage the Twitter users that view your profile page to follow you. Although the profile page impressions is not a statistic that Twitter lets users see, you will be surprised by the number of people that actually look at profiles and then don't follow that person. Remember that any mention, tweet, retweet or any social interaction will enable Twitter users over the world to view your profile page at a click of a button or touch of a finger.
Always Have A Contest
Contests are great ways to gain extra followers for the simple fact that people love the idea of getting something for free and for simply following and retweeting a tweet! The best contests are ones that are usually related to something happening in real time. For example, if there is a soccer match being played, Nike might make a contest that if you follow them and retweet a tweet of theirs, you can win a new pair of football cleats.
As well as this, you could also integrate the contest right into your PPC campaign itself. For example, if you find that your CTR is a specifically low statistic, you can add to the description of your advert that there is a free give-away for _____ to get the web user's attention. Social media and PPC go hand in hand together!