When it comes to the loading times of your web site, you can't slack off. In a previous post we already talked about how you can use Pingdom to get a score for your site and any loading issues. Another option is to use Google's new Page Speed Test.
What is Page Speed Online?
In Google's words: Page Speed Online analyzes the content of a web page, then generates suggestions to make that page faster. Reducing page load times can reduce bounce rates and increase conversion rates. Learn more
All you really need to do is head over to their web site and insert your URL into the speed test form. Once submit, you will then get a score based on a 100 point scale. In the screenshot below you will see that PPC.org is currently rated with a 88/100 score. Then on the left side of the page it will show you full stats and methods on how you can improve your score and loading issues.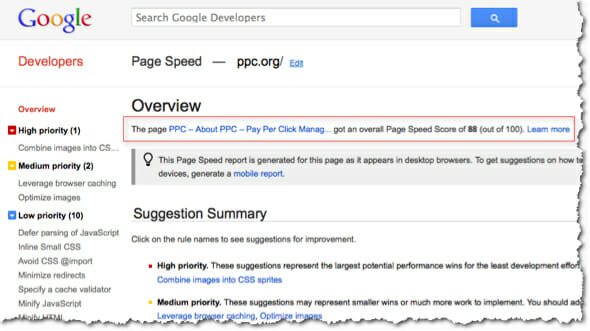 How to Speed Up Your Web Site
While the Google Speed Test won't actually speed up your site performance, one of the best ways to do so, is through using a Content Delivery Service. There is also a plugin called W3 Cache wordpress plugin, which will sync up with most of the CDN services out there. Two well known services are from Amazon CDN services, or MAX CDN, which many blogs are running off of. The cost of having a CDN is minimal (only a few dollars a month), compared to the actual difference it will make for your visitors and loading issues.