A high click through rate is always a bonus to have in pay per click advertising. It contributes to making your quality score better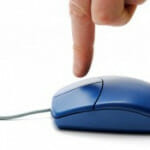 resulting in a lower cost per click making your campaign much more easy to budget. A high CTR makes clear to the advertiser that their advert is successful at enticing the web users onto clicking on their advert: the web users are interested (more so than an advert with a lower CTR) and will be more likely to gain you a conversion on the landing page. As well as this, a high CTR is going to be better at helping you compete with your competitor's adverts that are alongside yours: your taking the contextual traffic from them. For this reason, there are some great reasons why you should get a high CTR in PPC. Here are some ways you can improve the CTR of your advert.
Use Negative Keywords
Negative keywords are a necessity for all campaigns out there in order to gain a high CTR. The way negative keywords work is by preventing web users from seeing your adverts for the keywords that you choose to be negative. The best way to explain this is with an example:
Let's say you are creating a campaign that is looking to sell laptops. Your normal keywords might be 'buy laptop' etc…
Your negative keywords for this would be 'repair laptop', 'sell laptops' or 'upgrade internals of laptop' since these search phrases are web users that do not want to buy a laptop but do something else with it with the keyword 'laptop'. Therefore, these type of web users are going to be rubbish to you – you want to stop them from seeing your advert. The more specific your keywords and negative keywords are to what type of traffic you want to reach your landing page, the better the CTR for your advert will have.
Optimise Your Advert For a High CTR
You might have enabled the most contextual traffic to view your advert with the above help. However, if your advert is not compelling enough to be clicked on, it will all be for nothing. This is why you need to make sure your are optimising your adverts to their full potential (each link will take you to an article based on how to optimise that element of an advert):
The title is the first thing web users will see and read. Use it to grab the web user's attention and lure them into reading the description and URL.
Once lured, the web user will read the description. There are some easy optimisation tips you can make to the description that will make it just that bit more appealing.
The URL tends to be neglected by advertisers as being not as important to the CTR as the other elements. This is not true. You can still optimise the domain name in an advert to make it entice the web user further.
If you are an advertiser that also has an image advert in their campaign, this can also be optimised too.