Every day I get approached with emails to review and promote different web sites and services. Sometimes it's easy to tell what the purpose of a web site or service is, other time's it not so easy.
When I come across a web site that has an intro video, it makes my life so much easier. I can watch a quick 15-30 second video and get a recap of how the site will help me and what they can do for me.
This is the exact mentality a customer has when they are searching for new products or services to fill their needs.
On the internet time is everything and if you are wasting people's time on your site and not making it easy for them to figure things out, then you are already losing the game.
A perfect example of how well video works with landing pages is to just look at the top selling products listed on the ClickBank marketplace. Nearly all of them have a long intro video that pulls in the customers and grabs their attention. It's all part of the pre-selling process.
It's not just digital products and offers that need videos, it's all of the huge services out there as well.
Let's take a look at two more examples of how sites are using video to engage with customers and give them a quick recap on why they should use their service.
Monetize is a UK based affiliate network that has a bunch of affiliate offers for online marketers to promote. Since there are many different networks out there, Monetize has created a "Welcome to Monetize" video on their site that shows how they are different and better from the competition.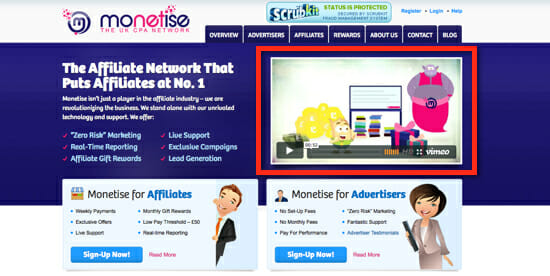 You can see from the screenshot above that Monetize not only does a good job with their video, but also the overall placement and navigation on their site. If you are an affiliate or advertiser, you can clearly see what area you should be focusing on and clicking.
Another great example of video usage on landing pages is at Blogging.org, which provides a fun "Introducing Blogging.org" video that walks the user through the process of why they should use Blogging.org as their preferred content writing solution.
In both examples you will find that the intro videos are cartoon-like and relate with their viewer. This is the best way to connect with your audience and keep them engaged.
If you don't currently have a video on your web site or landing page, maybe it's time you had one created!