In addition to writing about pay per click marketing and different ways for you to improve your existing ad campaigns, we also occasionally review different ad networks and sites that can help you improve and increase your bottom line. Many of these networks as well known, and some may even go on to be acquired by larger networks or fall off the cliff and eventually might go out of business.
In this review we are going to take a look at T3 Leads, which is a very well known and successful ad network that has been around for many years. What makes the T3 Leads network different from other ad networks is that they have a tight focus on the offers they have within the network, and not try to throw as many offers at you like some of the other networks do. Another big difference is that the offers on T3 Leads is that all of their offers are exclusive to their network… which means you won't find them elsewhere, and T3 Leads knows how to help you promote their network only offers and that they work.
A Look Inside of T3 Leads Ad Network
For anyone who is already an affiliate and a member of any ad network, the infrastructure and concept of most ad networks are the same. Ad networks manage the ad campaigns, their tracking and payments. As an affiliate it's your job to promote the ad campaigns and drive quality leads. This setup is no different with T3 Leads.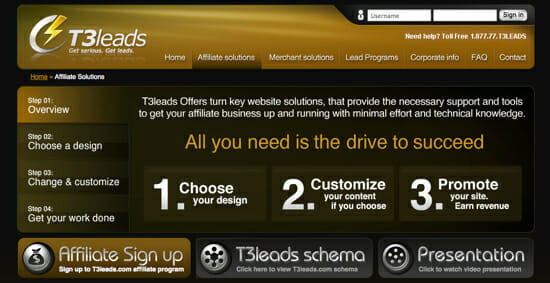 T3 Leads is a CPA driven ad network, which means you are paid on a per lead or action basis. This is the norm for almost all ad networks now, as it's much easier for affiliates to back out their traffic on a conversion basis, while the advertiser only has to pay for the results. When affiliates drive higher volume and quality, there is also room for increases in payouts.
There are many offers available on T3 Leads, but the majority of offers fall into the financial niche, which include pay day loans, auto loans, insurance, credit cards and more. The great thing about promoting affiliate offers in this market is that the pay outs are much higher than your usual commission, but there is also higher competition. You will find some offers paying out in the $100 range for a single lead on the T3 Leads network.
Your earnings and campaign success are only as successful as the stats you have to work with. Outside of any ad tracking solutions you may be using, T3 Leads also provides full reports on leads that cover everything from traffic and returns, sub-accounts, ad channels, states, cities, keywords and ad rates. Using this information and comparing against different traffic sources will help you bring in higher conversions and profits.
Promoting Seasonal Offers with T3 Leads
In addition to being a network that has found a lot of success and has a track record to prove it, T3 Leads is also very good with sending out mailing to their affiliates and creating time sensitive and seasonal landing pages to improve profits.
In one of their latest mailings, the network talks about how so many people are going to be spending a lot of money on holiday shopping, which will lead to increased volume in the "pay day loans" and "cash advance" markets. Not only does T3 Leads create unique landing pages for their offers and holidays, but they also create country specific landing pages and domain urls as well.
It is this type of out of the box thinking that may increase your conversions by just the smallest fraction, but still makes a big difference on your bottom line. In addition to the mailings sent out from T3 Leads, you can always contact their staff or your affiliate manager at any given time.
Make Money Referring New Users to T3 Leads
Unfortunately we have been seeing a big drop in ad networks that are paying for referrals to their ad networks. The referral percentages have either dropped, or been removed all together. Fortunately for T3 Leads referrals, there is still a plan in place, which rewards a 3% commission on the profits earned by new affiliates to the network. This is a lifetime referral commission, which can end up being quite rewarding.
If you were to refer a new affiliate to T3 Leads who manages to earn just $5,000 a month in commissions, this would result in over $3,000 in commissions for yourself within two years… just for simply referring them to the ad network!
Once you are setup with an affiliate account, you will see your affiliate referral tracking url within the account.
Whether you are looking to promote affiliate offers, or becoming an affiliate referral, you should definitely take a look at T3 Leads and how they are helping internet marketers make more money with their ad campaigns. It's also important to note that T3 Leads does not accept all affiliates. Your account will be manually approved, as it's extremely important for their network to maintain only the highest quality of leads for their advertisers and affiliates driving the traffic.