Having an excellent web site design or blog is crucial for any business. With WordPress now being the CMS choice for the majority of people creating a web site or business online, it's not only just as important to pick a quality WordPress theme, but it's also cheaper and easier than ever before.
I'm not a WordPress designer, but I definitely make sure my sites have unique themes once they are well branded and getting traffic. I always make sure to create any new blogs with a premium theme, so I can fully customize their look and feel without the need to mess around with any code or a graphics program.
MyThemeShop is one of the top sources online for finding premium WordPress themes to bring your site to life. Once you visit their site and "Themes" page, you will be able to look through the various themes they have on their site. In addition to the premium themes, they also have free themes for anyone that might be just starting out.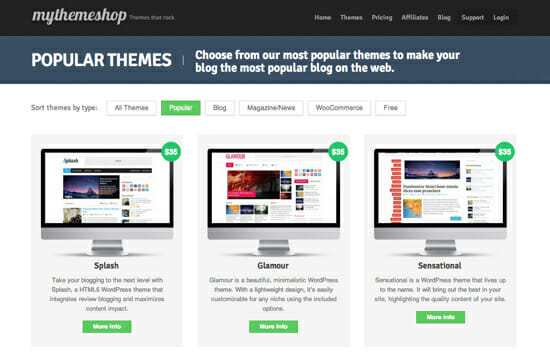 When it comes to choosing a WordPress theme for your site, you have a lot of options. There are plenty of free themes out there, but many of them are not that well put together when it comes to coding and customization. I've been using MyThemeShop themes on some of my sites for a while now and their templates are always the best for making the customization process quite simple.
You can see one of my favorite themes from their portfolio below. The "Splash" theme is nice because it has all of the great content and ad placement you want in a theme, while also adding in the social networking feature and page navigation.
With over 60 different premium themes available through their site, it would be hard for you not to be able to find one that is perfect for your site. It's also important to note that the themes are fully optimized for SEO, loading speeds (seen below), viewing and also come with full support through the MyThemeShop members forum.
MyThemeShop Membership Plans
As mentioned, I have a ton of sites and I've paid for even more premium themes over the years. On some sites I will even pay up to $79 just for one theme. What I like about MyThemeShop is how they offer a monthly plan or a one time payment plan. If you look through their portfolio and find one theme that you like and just want only that one theme, you can buy it for a one time price of $35. However, if you want to become a member of their site and always have access to all of their themes and any new ones they come out with, you can pay a one time $99 fee, then $9 a month to keep your membership. This will allow you to access and use all of their themes, when and wherever you like.
To browse through the themes at MyThemeShop.com and become a member of their site, click here.