One of the best ways to make sure you are ranking extremely well on the main page of Google for your personal name or your company name is to setup as many high quality and authoritative profiles as you can. We all know about Google+ Profiles, LinkedIn and Facebook, but there are many other solutions out there as well. The more profiles you have out there, the better chance for you to dominate the first page of results for your targeted name.
Completed.com is fast growing resume site that allows anyone to sign up for free and create a profile page for themselves or their company.
What makes Completed.com stand out from the other job profile and resume sites that you already know of is that Completed.com is more personal with the information on the site and it actually allows you write full bios and helps you with the creating content that ranks well in the search engines.
I just recently started working on my Zac Johnson profile and you can see a quick screenshot of it below.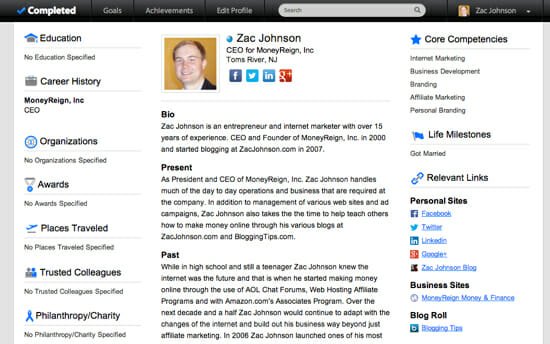 From the screenshot above you will see that there is a lot of information that you can add to your resume page. This includes everything from your social pages and bio information to getting really specific with recent goals, awards, organizations you work with, trusted colleagues, favorite quotes and much more. Completed.com is not only a great resume page, but it really helps others learn more about you while also letting your get more personal in the process. Obviously the more information you provide, the more detailed your page will be which also leads to better overall search rankings.
I also mentioned that Completed.com is all about making sure your pages rank well in the search results for your name or company name. When going through the BIO process you will be reminded to continually user your name in the content to increase the chances of your page's ranking.
To give you an example of what a company profile page might look like on Completed.com, you can see the Brand.com profile below. Instead of focusing on personal highlights and goals, you can build out your company page with your management team, core values of the company, all of your basic contact information and much more.
Be sure to visit http://completed.com and create a free resume profile page for yourself and see how well you can get it to rank in the search results for your personal and company name.