If you've ever taken the time to look at landing pages from some of the leading affiliate offers (especially dating and financial offers) and web sites on the internet? You will notice a common theme among all of them. Most of these sites will have amazing looking landing pages with high quality photos and images.
You may think that these companies have to spend big bucks to pay for their images and the unlimited use of them, but it's actually much cheaper than you think.
Sure, if they are using "exclusive" images that they own the rights too, then they are going to have to pay a great deal of money. However, if they are using common stock photo images they may be only paying a dollar or two.
These types of images are most commonly seen on dating and finance related offer. You can see in the example below from Mate1.com that they always have just one stock photo image of a girl on their main page. Apparently this model works extremely well for them as they haven't changed their landing page design for many years now.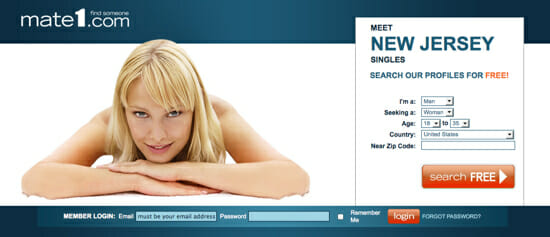 So how can you start using these same type of images within your landing pages and web site content? Easy, I recommend going with Depositphotos.com, one of the largest stock photo web sites on the internet.
I currently use them for all of my own sites and have already downloaded over 500 images from their site since first joining them a few years back.
Once you visit their site you can do a quick search for any type of images you are looking for. In the example below you will see just a few of the images available for "dating".
To download and use any of the images, all you need to do is click on the image of your choice and buy the image size you want to use. Most images will cost in the dollar range for the smallest size, which is usually fine for web site design and content usage. If you are going to buy in bulk, you can save on stock files prices which allows you to buy monthly package plans, or you can continue to buy on a pay-as-you-go basis.
Another good thing about Depositphotos is that once you download the image files you can save them to your computer for immediate use, but you will also have the option to download them again at any given time through your members account. This is great if you are going to be using a desktop computer, then a laptop later… which means you can access all of your files at any given time.
The importance of being able to split test your landing pages with different images is crucial. You might be surprised at how much of a difference a simple image can make in terms of conversions on your landing page.
If you are looking for more ideas on how to incorporate stock photos into your landing pages and web sites, be sure to check Depositphoto's official blog which is occasionally updates with their latest images and articles on different ways to use their images.