When it comes to finding the latest information and new in the world of affiliate and internet marketing, where do you go? With so many quality forums, blogs and Twitter users out there, it's become a mission of some web sites, to create a one stop resource for everything you are looking for. IMToday.com is one of these web sites. Let's take a deeper look into why you should be using their web site and how it can save you time while catching up on what's hot in our industry.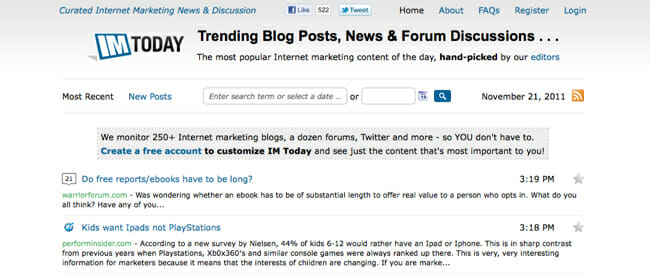 IM Today Latest News
As you can see from the screenshot above, IM Today looks almost like a news feed, with easy searching capabilities, but also without the use of annoying ads spread through out the web site. What's great about the site is being able to read through the headlines quickly enough so you can click on the ones that interest you, open them in a new window, and move down the list. From popular forums like WarriorForum, to well known blogs like AllFacebook.com, and useful tools like MixRank.com, IM Today has done an excellent job in making an all in one news source.
Becoming a Free IM Today Subscriber
By creating a free account at IM Today you can manage and customize your viewing, along with adding/remove different types of sites you would like to receive news from. Once you create a subscriber account, you will have access to a members area like the one shown below. From there you can select the type of content you want shown in your news feed, such as "Core, General, Home Biz or Newbie" content. The ability to add forums, and "Stop Words", which are specific phrases you would like to NOT see any reports on. For example, if you do not want to see any news on "Facebook", add words like "Facebook" and "Facebook Ads" to your stop words. This will limit the amount of news you are receiving, but will keep it limited by showing quality content and not showing you what you don't want to see.
Bookmarking Your Favorite Content
Another cool feature within the member's area is the ability to bookmark content. From personal experience, I will find great articles around the web and end up emailing the links back to myself, but will completely forget about them over time. Through IM Today you can simply click the star next to any content, and it will add them into your bookmarks area, while also noting the date the post came out, and the date you bookmarked. The thumbnails will also make it easy for you to keep note of what articles are from which sites.
The Future of IM Today
While IM Today is a new resource to many, it's already quite an exciting site for finding the latest news and content in our industry. As the site continues to grow and receive feedback from users, I'm sure the service and navigation through the site will only continue to get better. Be sure to add IMToday.com to your morning list of news sites to start your day with.