Continuing the 'Analyse A Real PPC Campaign' series, today I will be looking at the laptop market and how competitors create campaigns for the term 'buy laptop'. We should expect to see some stiff competition considering that 1) everyone always needs a laptop and 2) Christmas is approaching (therefore, more people will be buying laptops as gifts for others). The last ariticle in the series looked at three PPC search adverts for the search term 'iPhone'. This provided some helpful tips on how to make a well optimised PPC advert considering that each advert analysed has some great optimisation features. Today, though, we will be looking at HP's PPC campaign.
To view HP's text advert, I typed in the search phrase 'buy laptop' into Google search UK: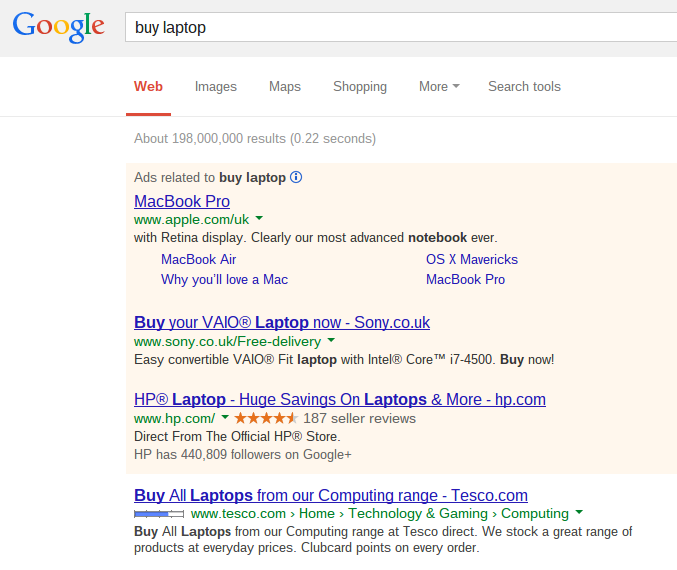 The first thing we can gather from this image is that the main reason why HP created a PPC campaign is because they do not rank at all on the first page of Google's organic search results. This is a big blow for HP which is why they are paying for a higher ranking.
It's interesting how each of the above adverts have targeted their campaigns:
Apple has gone for the 'wow' factor without any mention of pricing.
Sony has gone for the 'look at how powerful our laptops are' which is slightly different to Apple as they want the web users to know how fast their laptops are and not how amazing they generally are like Apple.
HP has gone for the price sensitive customer by including 'Huge Savings' into their PPC text title.
This is a very clever strategy by HP because they know that people are still price sensitive over the recession and are wanting to buy a laptop that is good but cheap. Apple and Sony's campaigns obviously cannot do that because they have not mentioned the pricing (meaning they are going to be expensive!). Although HP hasn't mentioned any pricing too, they have made aware to the web user that they have cheaper laptops than the two above PPC adverts.
Looking at the advert itself, they have made it seem that the web user will get wholesale discount from buying from HP 'direct' which is a good thing. However, the one negative comment I have about this advert is that they have not included any form of call to action. Apple doesn't really need to include a call to action (because of their status) and Sony has included 'Buy Your VAIO® laptop now' and 'Buy now!' giving the web user instructions which means they are more likely to perform it. What exactly does HP want the web user to do? Browse through the laptops only? Buy one of their laptops? We don't know because there is no call to action!
After clicking on HP's text advert, I came to the following landing page:
In my opinion, this is not a very good landing page at all.
The good parts to the landing page are the fact that there are lots of internal links for web users to browse around and the layout is moderately uncluttered and clean.
However, we need to look back at the type of message HP were trying to portray in their advert: 'Huge Savings On Laptops & More'. From the first price we see, this does not look cheap and like there are any savings at all. The problem is that for web users to see the range of products available at different prices ranging from £99 -£1,199, they have to scroll down. Remembering that first impressions are everything, many people will be turned away just from that £899 price tag (which is in the Macbook and Sony price range). Instead of having to let the web user discover cheaper prices through scrolling, they should have displayed a selection of different laptops with different ranges of prices above the fold of the page so that even if there are no savings on the laptops, there is a laptop above the fold for every type of web user financially.