I was reading recently that Google saw an estimate of around $2.5 billion in mobile ad revenues last year, and that it is likely to see more than double that amount, at $5.8 billion in revenue this year.
By reading that, I was surprised at how much PPC advertisers are losing just by not having a mobile marketing plan, and I was inspired to write this post on how to use mobile PPC to grow your business.
Below are a few solid ways you can use mobile PPC advertising to grow your business in 2012.
1. Create a Mobile Landing Page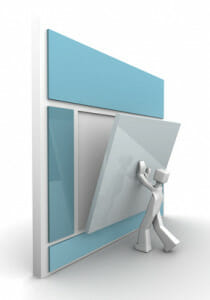 What's your mobile advertising plan this year?
If your only plan is to advertise and link back to your homepage and other key pages on your business website, then you're losing a lot.
The key to business success is in getting repeat customers, and this means you have to focus on lead generation instead of raw traffic.
Work on creating a perfect mobile landing page, and direct all your mobile PPC traffic to this landing page; no need to send traffic to your homepage.
The aim of the landing page will be to get people to enter their email, or to get them to buy your product or software or whatever your end goal is, but make sure you collect your email as a part of the process.
By doing this, you will be able to get in touch with your customers repeatedly, and as a result increase your chances of success with mobile adwords.
– Split Test Mobile Designs for Conversions
3. Target Local Ads
Do you know that one of the best ways to increase your brand reach in a particular country is by going local, even if that means changing your brand a little?
In 2009, Pepsi decided to do something that established its brand in Argentina.
When ordering Pepsi, Argentineans are known to request for Pecsi instead of Pepsi. The Pepsi company caught on this, and in an attempt to boost their local market share in Argentina they decided to rebrand Pepsi as Pecsi there.
The result was significant, and you can bet how much more money this would have added to Pepsi's pocket.
In facts, according to the Mobile Audience Insights Report from JiWire in the fourth quarter of 2010, when local content is added to a creative ad, users engage 100 – 120 percent more than they would have without the local content.
Now, you see what we have for making impact?
Targeting your ads in a local way, to a more local audience where you want to establish your influence might just be the best way to grow your business.
4. Give a Free Mobile App
Another approach you can take is to give a free mobile app.
The idea here is to create the free app, design and brand it with elements of your business, and look for ways to get people to check out your real revenue model.
Designing a solid app shouldn't cost you much, and you can significantly increase your profit potential by adding the app to iTunes, by designing the app to drive back business to you, and by marketing the app using mobile ads.
Since most of those who the ad will be targeted to will be browsing on their mobile phones, you don't have to worry about wasting advertising dollars; you'll get your message to them just when they need it, and you'll be able to increase your brand reach by getting them to install your app.
This guest post is written by Paul, a writer for SIM only, a site that help people compare SIM only deals.