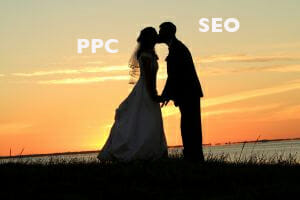 Ads are a form of communication to help people buy something.  We can help you out and give you the answers that you're looking for. By putting both PPC and SEO together you can get better results.  Below are some of the best ways to marry your PPC and SEO results.  Thanks to Brad Geddes from Certified Knowledge for his section in PubCon 2011 for some of the stats and info.
Paid search and SEO search character limits are 57 characters.  You should be testing everything, including your search and paid search characters.  Try different ones through PPC and then move it to you SEO to optimize your results. If you're trying this you should have your search team choose the best result that would work best with the site.  PPC is the best way to test this.
Your main page is your most visited page, the more you are testing the front page the more traffic you will convert.  You should be testing this through PPC.  Test up to four different pages and test them.  Narrow it down to two different pages.  Then have your search team take the page team make an educated guess at which would convert the best.  The search team isn't always the best to choose this because they are only trying to optimize conversions.  You should always be testing your front and main page through PPC.
Google Analytics is the key to knowing what's going on with your site.  If you know what's going on with your site you will know which pages you should build links too, which pages you shouldn't build links too, which pages you really need to test through PPC.  You can test any page through PPC.  Google Analytics will tell you where people are going on your site and where they are leaving your site.
Communication between PPC and SEO should be together.  When you have two different teams working together you will more actively work together and work for the common good.
Should I buy paid ads when you're number one in organic listings?  I personally say yes and here's why.  By doing this you will have two of the top three listing.  When you promote PPC, you can send them to a specific landing page which should increase your chances of conversion by 22.5%+ compared with 15.2% chance with regular organic SEO.  Test this, buy it for a week.  Pause it for a week.  Then start it back up for a week.  Then pause if for a week.  Check your results and see if this makes a difference.  I guarantee it will make a huge difference.  If it doesn't make any difference then you should just pause it.
Bottom line,  PPC and SEO should be working together.  I am a big fan of PPC but also a big fan of SEO.  Both are needed for a long term strategy.  SEO is a very long term strategy that I think every company should incorporate.  I would personally say that you should be doing 75% PPC, 25% SEO for your first year, over the next year you should move to 50% PPC, 50% SEO.  Then in year three move to 25% PPC, 75% SEO.  If you see that your results going down, change things up a little bit.  Good things happen when you use both these together.
John Rampton is a PPC Entrepreneur, Author, Founder at Due a finance company helping small business owners. Follow me on Twitter @johnrampton