The question that is probably on just about every publisher's mind is "How do I increase my site's revenues?" And while there are many possible ways and means to monetize one's traffic, and a seemingly endless supply of all kinds of programs with bells and whistles that promise just that, it's often very difficult to choose the right way to go about it. Publishers must be careful in choosing the types of offers they include on their sites, and the types of monetizing strategies they use. There's a fine line between maximizing site revenues and alienating your user base.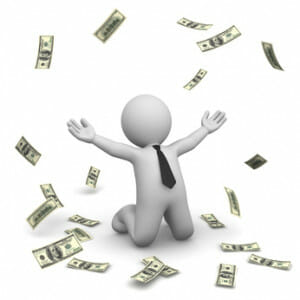 Granted, user is king. Whatever methods you choose to make more money, you better be sure your users approve. At the very minimum, you must ensure not to spook or upset your site visitors in any way. After all happy visitors are the life force of your site. But meeting the minimum requirements will not translate into any kind of tangible benefits, not for you and not for your site users. The goal is not to present visitors with content they'll simply tolerate. The goal here is to present them with something that will get them excited and keep them coming back for more!
Often, many a site can use something that will bring about a positive change in user experience and add value, something that site users will actually enjoy and look forward to. You may ask, so what specifically are we talking about here? What can I offer my visitors that they'll actually enjoy? The answer: Quality Free Stuff! As the famous song goes "The best things in life are FREE," and it's true. Everyone likes a freebie. Given our turbulent economic times, more and more people are living on a smaller budget and appreciate a free offer, be it a sample, trial or freebie.
While offering freebies sounds like a no-brainer, it's publisher beware when it comes to actually choosing the types of offers to display and providers to use. There are 2 main things publisher must pay attention to when it comes to offering freebies: Quality & Uniqueness.
Offer Quality: Make sure that the Free Stuff you pass on to your visitors is legit, high quality offers. Your site's good reputation is everything, and aligning yourself with questionable offers will only hurt you in the long-run. There are many self-proclaimed "free" offers that promise high payouts to publishers, but are borderline scams that take advantage of visitors; these must be avoided at all cost. You need to look out for your visitors, and make sure they are happy. One way to do so is to actually review every single free offer to ascertain its quality. Another less time consuming solution would be to join a network specializing in freebies and trials that has a reputation for quality free stuff. This way you can focus on your site's content, while the network ensures that only quality free stuff is placed on your site.
Offer Uniqueness: Not only do the free stuff offers need to be unique, but you must always seek new offers so that your free stuff content does not become stale. You must make sure to keep your offers current and ensure your visitors are viewing the latest free stuff there is.
Whether searching out individual free offers yourself, or using a reputable network specializing in free offers, you and your visitors will start reaping the benefits of what quality free stuff have to offer.
About the Author:
Jonathan Kagan is an Affiliate Manager at FreeDirectMedia.com where he advises publishers on how to best optimize "free stuff" offers and assists them in choosing the right integration options.
FreeDirect Media is a trusted performance-based advertising network of Freebies, Samples & Trials, where innovative technology meets outstanding customer service. Publishers get access to unobtrusive high quality "Free Stuff" offers that add value to their site and generate high eCPM Rates. FreeDirectMedia.com offers many integration options, letting Publishers integrate offer content into any section of their site, launch a new offers page using a fully customizable template or display free stuff offers in an expandable customizable toolbar.