As a blogger, you might have noticed drops in your traffic at this time of year around Christmas, which is perfectly normal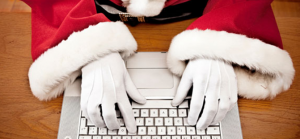 for the vast majority of websites. Less people are surfing the internet so there are less web searches for the content on your website. However, does this mean you have to suffer the traffic dip that comes every year during the holiday seasons? Not necessarily. There are work arounds if you have little time to invest in regaining some traffic over the holiday season. Here are some of the ways you can gain extra traffic over the Christmas holidays.
Don't Publish New Content
This seems strange to say especially for content mill type of websites. However, the problem with this is that you generally won't see the instant traffic your articles deserve: even if you have a many web users following your website and through email marketing. As well as this, the SEO of an article takes time for it to appear organically – you cannot just post content and hope it will appear on Google straight away. Therefore, waiting to post something for a few weeks will not generally mean you will miss out on lots of organic traffic.
It is far more effective to wait till early January to post new content since you will get more engagement from your followers, that will be back online just like before the holiday season.
Concentrate with Social Media
Although less people are surfing the internet, there will be more people online through social media, since the holiday seasons is usually a very social season to communicate with other people. For this reason, you may find that you can regain some of the lost traffic, due to the holiday season, through putting some more effort into social media marketing. Re-using old effective content to share on social media channels can really make a huge difference to your traffic. This is because the engagement and sharing level around the holiday season massively increases, which increases the chances your tweets get liked and re-tweeted as well as your posts getting liked and shared.
Give Your Design a Holiday Twist
By this, some websites like to give their current themes a hint of Christmas, be it through adding snow to some areas, a Christmas hat to the logo or decorations around the outside. Yes, we all know this is quite cheesy. However, it does actually help websites. This is because Christmas usually puts people in a happy mood, with high spirits. By incorporating some Christmas into your website's theme, you are associating your website with being jolly, helping to put web users into a happier mood than before. A happy web user is a good web user to have on a website as they are more likely to engage, stay on your page and help provide your website more traffic.