Written by Shahzad Saeed
A few weeks ago I published an article here titled how to sell to existing customers using Facebook. That article helps you to get started with selling to your existing customers using Facebook Custom Audience. If you've been advertising on Facebook for a while but haven't started leveraging Custom Audience, I strongly suggest you read that article.
Today, I'll explain another important advertising feature every marketer must use to sell their products to existing customers on different marketing channels—remarketing.
Remarketing is one of the best ways to advertise to your existing or potential customers who have previously visited your website or used your mobile app. In fact, remarketing is one of the best Google AdWords Optimization tactics especially if you're in a tight budget.
Why remarketing is important for your business?
On average, it takes at least 3 to 4 visits to your website for your prospect to actually think about buying from you. And almost 95% of your visitors will never return once they leave your website.
With remarketing, you can target those potential visitors on various marketing channels who left your site and encourage them to return to your website.
With some real remarketing ads, I'll explain how to create a profitable remarketing campaign.
1.    Expand the reach of your new products while launching
Did you know that it is easier to sell to your existing customers than selling to new ones?
Studies show that probability of selling to an existing customer is 60-70% whereas selling to a new prospect is 5-20%.
So when releasing a new product, it is highly recommended to sell it to your existing customers.
If a customer hasn't visited your website for a while or hasn't subscribed to your list, it is very likely that she might not be aware of your new product release. In such a case, remarketing could be the right choice to reach out to your existing customer.
If you're advertising with Google, you may use Customer Match or if you're on Facebook, you may use Custom Audience. Both platforms allow you to upload your email list, so you can exactly target prospects who are associated with those emails by showing a personalized ad.
Remarketing ad example
Below is a perfect example of a remarketing ad that targets me on Facebook, which tells me about a new product release.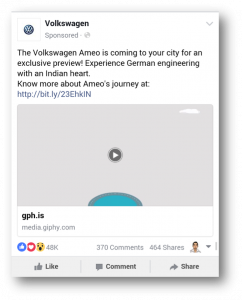 Since I've previously shown an interest in Volkswagen car, they know I am a potential customer. Because they are having my email address/mobile number in their list, they retarget me on Facebook by showing an ad that talk about their new product release in the market.
1.    Customized offer/discounts (lost customer)
70% of companies agree that it's cheaper to retain a customer than acquiring. Sadly, most companies don't seem to value their existing customers anywhere near as much as new customers.
Maybe, it's because they're not sure how to bring back their 'lost customers' who haven't shown an interest in buying a product.
However, customer retention is an important phase of your sales funnel. If you're undervaluing the importance of retaining your lost customers, chances are you're leaving a lot of money on the table.
One of the best ways to encourage lost customers to return to your website is by offering a special discount.
For instance, Hostgator.com offers a 75% off to their lost customers if they re-open their hosting account. Similarly, Flippa entices their users to relist the domain name for free if they haven't successfully sold out during their first listing.
The good news is you can use remarketing to offer a special discount to your lost customers as well as your potential customers who are hesitant to complete the order on your site for the first time.
Remarketing ad example
This is a perfect example of providing a personalized discount using remarketing ad.
With Google's 'Remarketing List for Search Ads' (RLSA) or Facebook Custom Audience, you're allowed to remarket a potential customer for 180 days if they've recently visited your website.
1.    Cross sell products
If you've ever purchased a product on an ecommerce store, you might be aware of cross-selling.
Cross selling is a tactic of selling a different product or a service to an existing customer. It encourages buyers to spend more money on your website buy purchasing related products from other categories than the product they've recently purchased.
A widely popular way to cross sell a product on an ecommerce store is by using a recommendation engine. If you're running a store, one of the essential ecommerce tasks is to create the product taxonomy, so you can easily categorize them and cross sell products on the basis of it.
You can also use remarketing to cross sell related products across different marketing channels.
Remarketing ad example
Take a look at a cross selling ad example.
Similar to the above ad, you can also create a cross selling ad by creating a remarketing list of customers who have recently purchase a product on your store. You can target them for next 180 days. The best thing is it encourages your customers to make a repeat purchase because it is very likely that those recent buyers will have you on top of their mind provided that you offered an excellent customer experience during their last purchase.
1.    Dynamic Remarketing
Dynamic Remarketing in AdWords puts remarketing ads a step forward. It allows advertisers to create personalized ads dynamically by reminding them the items they've recently viewed or purchased from their website.
Wondering how dynamic remarketing works?
AdWords dynamically creates an ad by pulling some of the most relevant products from your Merchant Center feed based on the exact products your potential customers have already seen on your website. This is by far a much better approach than simply picking one of your remarketing lists and displaying ads based on the ad groups you manually create.
Remarketing ad example
Below is an example of Dynamic Remarketing ads.
Below are some best practices when it comes to creating Dynamic Remarketing ads in AdWords.
Use images: For better ROI, it is recommended to use images in your Dynamic Remarketing ads instead of creating text-based ads.
Bid less on visitors who didn't view a product: While you can dynamically retarget a general visitor who hasn't viewed any product, it is recommended to bid less for those visitors because they're less likely to make a purchase from your store.
Frequency capping: It is a feature that limits the number of times your ads appear to the same person on the Display Network. By integrating your AdWords with Google Analytics, you can identify which time periods are best for your website.
Have you ever created a remarketing ad for promoting your products? Share your experiences with us by dropping a line below.
About the author: Shahzad Saeed is a content marketer for a Singapore based SEM company, WebSell Solutions Pte Ltd. At WebSell, we offer PPC and web development services.