Over the years I've done a lot of online marketing. Everything from building out my own sites and running ppc ad campaigns in Google, Yahoo and Bing. Many business and advertising models change, but one of them has always stayed the same, and that is email marketing. There is really no other advertising model that is more effective, direct and consistent as email marketing and getting your message delivered to the right people.
It's no longer an effective business model to pay to get traffic to your site and hope for the best. The majority of people are going to leave your site and not make a purchase or come back again. The best way to get these visitors coming back and eventually buy or use your service is to get them on your newsletter or mailing list. This is usually done through squeeze pages and offers funnels. It doesn't matter how you get them on your email list, as long as you are building your list on a daily basis.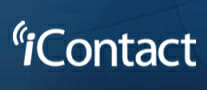 iContact is an email marketing and management company that has been in the game for quite a while now. As the world of email marketing and social media continues to change, iContact has been adapting and changing their business and services in the process.
One of the major reasons why iContact has such a fast growing customer base and recommended service is because of how simple their system is to use. Whether you are new to email marketing or a veteran, you will appreciate the setup and tools that they have to offer.
Email Templates – No everyone is a designer, nor should they be. This is something iContact took into consideration when creating their email marketing platform, so they created a wide range of email templates for businesses of all types to create a custom look to deliver their messages.
Message Builder – Using the message builder you can create the perfect look and feel for your outgoing messages in minutes. Instead of having to deal with nasty coding or design work you get to use their easy to use drag and drop creator.
Message Coder – For those of you who are well trained and blessed with talents in design coding and HTML, you can use the MessageCoder to create the perfect customized look and feel for your outgoing messages and newsletters.
Email Delivery – Of course the design and message of your messages is important, but nothing is more crucial than getting your message delivered. iContacts proven combination of technology and delivery experts make it happen on a consistent basis.
Are You Sending Out the Right Email Formats?
We are no longer in the late 90s and early 2000s… email has evolved and so has the way we view our messages. From the old days of logging into AOL, using different browser based mail and even checking our messages on mobile devices, ALL EMAIL needs to be catered to how the audience is viewing our messages.
Below you will see a variation of how email messages look on different devices and platforms. If your message isn't being delivered in the right format, your subscriber is much more likely to not only not see your message but also is likely to delete it or even unsubscribe from your list.
When using the iContact email templates you can pick and choose the right way for your messages to be delivered and seen by your audience. No more wasted leads and a better ROI.
iContact Caters to All Business Sizes
Not everyone has a massive customer list or audience they need to cater to, and we all need to start out somewhere. This is what makes iContact a perfect solution for even beginners who are just getting started with growing out their own mailing lists.
You can get started with iContact for as low as $14.00 a month, which will allow you to manage up to 500 subscribers on your list. As your list grows in size, so will your membership package. For larger sites, you can manage up to 15,000 subscribers for $109 a month. If you should surpass these subscriber amounts you can contact their sales team to create a membership plan catered to your business size.
The good news is that they also have a free trial which allows you to sign up to their site and try it out before you have to become a paid member.
Whether you are looking to build your first mailing list or looking for a higher quality service, be sure to add iContact to your arsenal of marketing weapons.