Google have recently unveiled a new tool that appears on their homepage, which appears as a little pop up window on their homepage notifying web users to 'Test your site with Google' like so: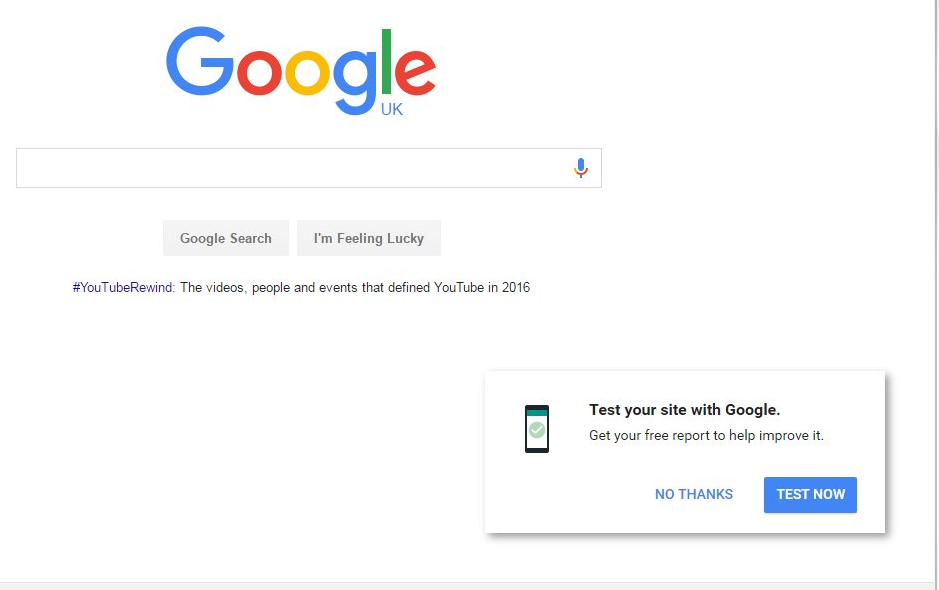 If you cannot see this on your Google homepage, this might be because only certain web users are being allowed to view this, which is mostly likely those that have websites associated with Blogger (and hence, Google know they would be interested in this). The new free report allows web users to see a full report of their mobile website which consists of the following information:
Mobile friendliness out of 100
Mobile speed out of 100
Desktop speed out of 100
Each of these areas can be optimised with tips and tricks supplied by Google, such as to remove JavaScript from being loaded above the fold of the website to aid in the website loading faster. From this report, you can get the full report emailed to you for you to use to improve the statistics of your website.
The main reason for this report by Google is to address to web users that mobile optimised websites really is the future, if you had not figured that out already – Google's previous search engine update made clear that they ranked websites on mobile search results based on how mobile optimised the website is. Therefore, it is another way for Google to quantify websites, in terms of their mobile optimisation, and allow website owners to see just exactly where their website is lacking and doing well in, so they can improve on it to make the general user experience of surfing online better for mobile web users.
The results will not generally mean that you will get ranked lower in organic search results if your score is 'red'. In actual fact, the mobile speed of a website does not have much weight to SEO. But, it does have weight to the user experience of web users onto your website. If you find your website is loading very slowly, just like Google states, web users will generally leave a website if it does not load within 3 seconds…
Should you use Google's Report?
At the end of the day, from my experience, there are many websites that will tell you ways to optimise your site in terms of its loading time. However, what I have found from these websites is that they always want a little something in return for providing you such information. This could be from a lead such as information about yourself, to use for email marketing, to even paying for the report.
For this reason, I definitely think it is worth website owners to see how their website performs: especially due to the fact that out of all the big search engines, it is Google that you will want to make sure they see your website as highly rated.