Google is at the forefront of innovation in PPC advertising with both their programs: Google AdWords and Adsense. Their latest big change came in March where they removed the right hand side adverts altogether and added an extra space on paid search results above organic results so that a maximum of four adverts could now appear – early indications from studies are showing this to have, on the whole, a positive impact to the PPC advertising program.
With mobile technology becoming an increasingly more important part of the way web users interact with the internet, and Google for that matter, it is no surprise to hear that Google are adding another ad extension to mobile adverts called the 'Click-to-Message' ad extension.
What is the Click-to-Message Ad Extension?
The Click-to-Message ad extension is a way for advertisers to enable communication with the web user through the means of text messaging. The text for the ad extension can be personalised to the advert in question with a messaging icon to the right of the content to illustrate it is about texting as so: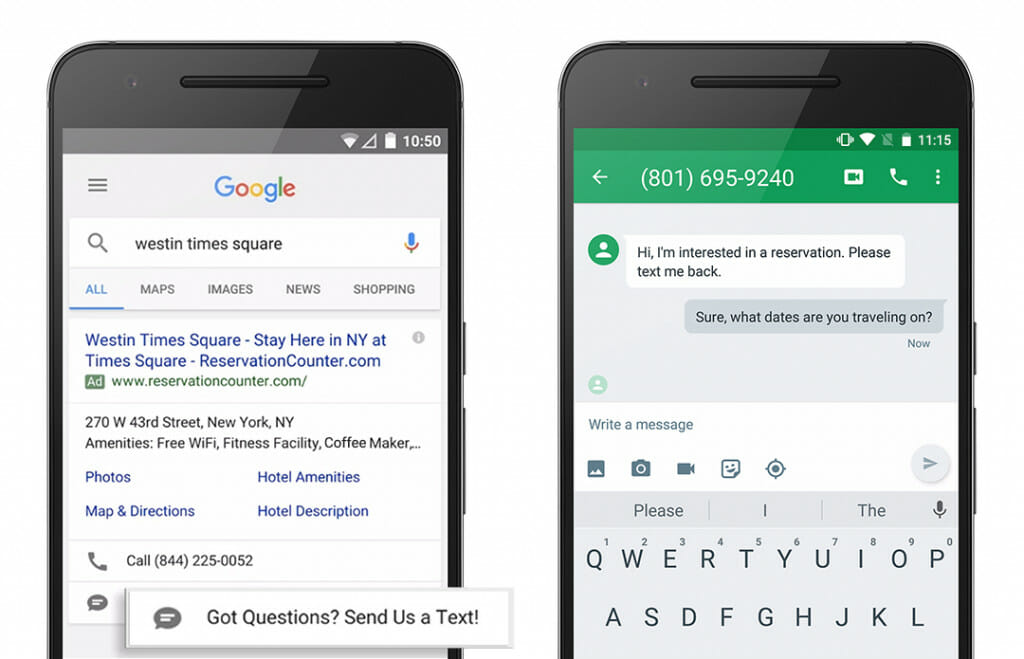 What Google suggested was that there was a need for such an ad extension in PPC for mobile devices considering the statistics that:
Nearly two thirds of people with smartphones use a messaging app more than five times a day to communicate with others.
65% of consumers have said that they would use a messaging app to communicate with businesses be it to get information about a product or service or to schedule a meeting/appointment.
With this in mind, it makes complete sense to introduce such an ad extension. However, to what extent it will be useful and will be used by the web user is another question:
Take the above image, which is Google's example of the new Click-to-Message ad extension in use. If I was the web user wanting to make a reservation, I would not rely on texting the restaurant to make a reservation (as it is quite important). Instead, I would use the call extension as it is the quickest way to get into contact with the restaurant and scheduling the reservation will be a lot quicker than over text: just like a lot of things is quicker over a phone call than over text.
Therefore, if the call extension is displayed in the same advert as the Click-to-Message extension, I can see more people going for the call than the text.
However, there will be times when a call is not appropriate or the web user does not have the time or is in the right environment to make a call. In these situations, I can see the Click-to-Message ad extension to become very useful. This is because the next best alternative after that would be to click onto the advert and contact the business through a contact page either through filling out a form or over email – for mobile web users, this is not the most intuitive way to get in contact if calling is not an option.
A student in England studying a Masters in Automotive Engineering with Motorsport, Will created AskWillOnline.com back in 2010 to help students revise and bloggers make money developing himself into an expert in PPC, blogging, and online marketing. He now runs others websites such as PoemAnalysis.com and RestoringMamods.com You can follow him @willGreeny.
| | |
| --- | --- |
| | Recommended posts |