With the series looking last at Aston Martin, Analyse A Real PPC Campaign will now look into the giants of the internet themselves being Google. However, instead of looking at what makes Google so much money, we are going to look into a PPC campaign for Google play: a music store to buy music online. This will prove extremely interesting and helpful as Google do not do things wrong when it comes to PPC.
To view Google's pay per click campaign on Google Play, I had to type in 'buy music' into Google's search engine.: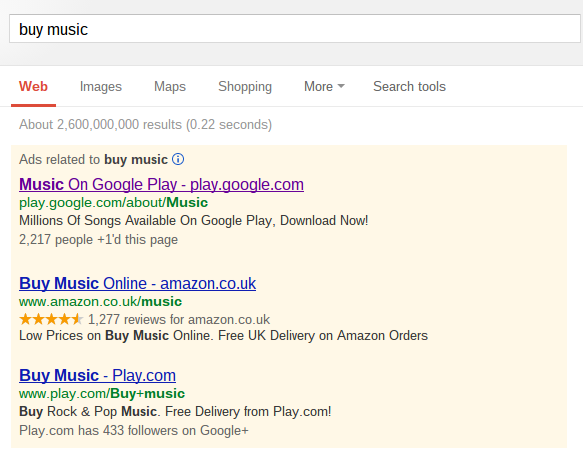 My first reaction to this was the level of competition there is for buying music online (and so there should be!). Recently, HMV (UK music retailer) went in and out of administration which just shows how much business companies are losing to downloads online. Everything is just that bit easier and cheaper online, right?
Looking at the actual text advert, it is relatively simple for Google's standards. This helps bring the point forward about what Google Play has up for offer. The headline interestingly has the URL for Google Play's homepage on it too being 'play.google.com'. This is a great addition to any PPC campaign because even if the web user does not click on it, they will know how to reach Google Play from knowing the URL. This brings the tip forward – if you have a relatively short URL, add it to your text advert.
After clicking on the advert, I came to the following landing page:
This landing page has been superbly laid out (which you can expect from Google). The sidebar or internal links of most landing pages are usually associated with being in the upper left corner of the landing page. Google have decided to lower these to the middle left into a list form which includes  books, movies and Android apps along with music. It's a wise choice to include this on the landing page considering that the web user came to the page because of an interest in music. But, how do people listen to music downloaded? They use portable devices and the chances are that the device can also download books, movies and apps too. For this reason, it's more of an universal landing page for Google's portable entertainment.
With most good landing pages, Google has included a large image to visually please the web user. This is important for anyone running a PPC campaign. An average web user's attention span is not very large on the internet. Therefore, as well as having an objective of gaining a conversion from them, you will also be having the objective of keeping them interested before the conversion is complete. The best way to do this is through using as many images as possible to not just tell the web user what your landing page is about but show them. The best PPC campaigns out there can show their whole landing page's contents in just one image that is quick and pleasing to the eye.