The next episode in this 'Analyse A Real PPC Campaigns' comes from analysing the giant themselves, Google, with their new take on a laptop. The Chromebook is both a competitor for Windows and Macintosh making it a very desirable piece of kit for most people who want to stay online (for example, I'm writing this article with a Chromebook!). For this reason, it is clear Google need to spread the brand awareness of this product to ensure maximum sales. This is why Google have used their own program, Adwords, to create a PPC campaign to promote their new laptop range.
When I searched for 'Chomebook' in Google, the following search results appeared with the top advert coming from Google: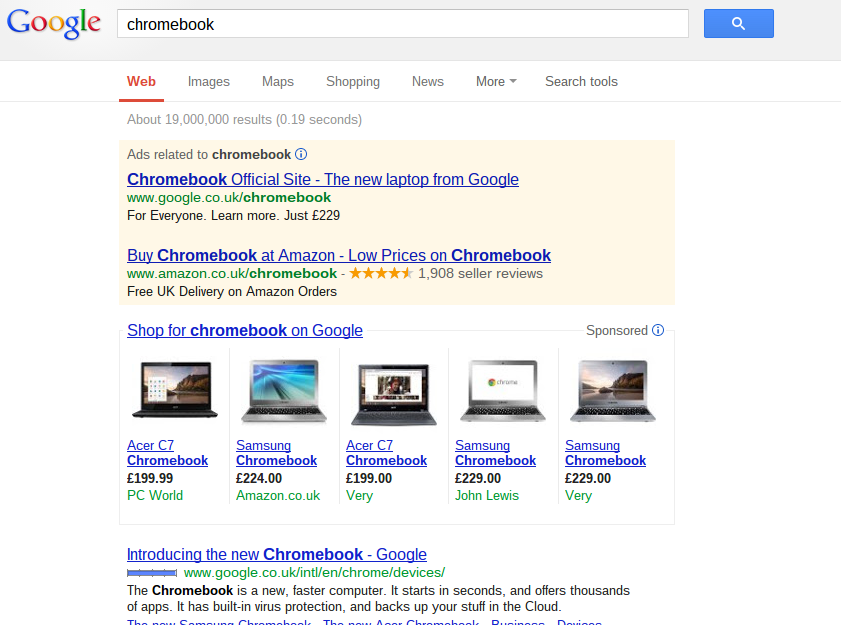 Straight away, this makes clear that Google are being the highest bidders for their own keywords. It is great to analyse Google in promoting their products in pay per click because after all, they did create PPC (or created the first mainstream program). When looking at the text advert they have used, it is extremely simple yet is packed with enticing information:
Chromebook Official Website – The new laptop from Google 

– Google has made the web user 

want 

to click on the advert already from using the word 'new'. This makes clear that not many people will know about the Chromebook and since most people are curious about new things, they will want to find out more about this 'new laptop'. Google have also made clear that they are the manufacturers. The brand image of Google is difficult to fault with it creating innovating products such as the extremely recently advertised Google Glass. Therefore, it is silly not to use Google's brand image.

For Everyone. Learn more. Just £229 – There are some PPC campaigns out there that can easily be criticised for having too long a description. The description is only meant to give a snippet of information because if it tells you everything you want to know: there is no point in clicking on the advert in search of more information on the advert's content. Here, Google have used extremely short sentences to bring the point forward that this laptop is not targeted for anyone specific but everyone. They have made clear that if you click on this advert, you will 'Learn more' and they finish the description off with a price. This is a key benefit of the Chromebook that they are so cheap. Therefore, remember in your own PPC campaigns to bring out as the advantages of your product/service in your description like Google have.
After clicking on the advert, you will move to the following landing page:
Remember that this is Google – they will produce the best PPC campaigns out of anyone. This landing page is just stunning to look at. If anything, it makes clear less information is better. Instead of piling the landing page with information, add 'Learn more' buttons so that if the web user wants to find out more information, they can move onto a page with just that. Interestingly, if you look at Google's whole campaign, you will find the following structure:
Text advert to be clicked. This has the bare minimum information about the Chromebook on it. 

Web user visits landing page. This is much more visual which is always more pleasing to look at than text. It is still pretty basic when it comes to the information of the laptop.
'Learn more' buttons enable the web user to control exactly how much information they want to read.
From this, it might be a good idea to try this in your own campaigns. If you have a high bounce rate or exit rate for your landing page, make it more visual to look at with the introduction of 'Learn more' buttons.