Google AdWords has long been one of the most popular tools for targeted pay-per-click advertising. AdWords has always worked by displaying advertisements based on the frequency of certain key words and phrases on a page of web content and, while this makes for an effective form of targeted advertising, it still leaves much room for improvement. One of these much needed improvements is geographical location targeting, a tool which is now available with the latest version of the advertising software.
Back in March, 2011, advanced location targeting was added to the Google AdWords advertising platform. This provided advertisers with a considerable amount of control over which advertisements appear where but, in response to customer feedback, Google has now implemented some long-awaited enhancements.
While the Internet is very much a global medium for advertising and communication, the importance of local information and targeted advertising should not be underestimated. Over twenty per cent of searches carried out on Google are location-related. Searches carried out from mobile web browsers are even more likely to be location-specific and mobile browsing is becoming more and more popular every day. Another important thing about location-targeted advertising is that people are more likely to take action when they see and advertisement which relevant to their requirements and their location. In fact, almost ninety person of people using mobile browsers take action when they search for local information on the web.
As you can see, the usefulness of location-targeted advertising is beyond doubt and, for this reason; one of the new tools provided with the latest version of Google AdWords is ZIP code targeting.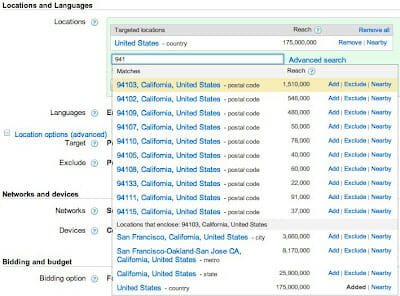 The tool is currently only available for the United States, although it will undoubtedly expand very quickly. At its launch, the new tool will allow advertisers to target over thirty-thousand ZIP codes all over the United States. In the same way that you can customize other forms of advertising such as newspaper ads and online classifieds, you can now add ZIP code targeting to your Google AdWords advertising campaign.
Advertisers will be able to use a maximum of one-thousand ZIP codes at a time for each advertising campaign. It will also be possible to view the performance statistics of your advertising on a ZIP code level, helping you to improve even further the effectiveness of your advertising campaign.
Advertisements which are locally relevant are much more likely to be welcomed by the viewer and acted upon accordingly. For many types of product and service, they are simply far more useful.
The location insertion feature provided in the latest Google AdWords tool also negates the frustrating necessity to have different advertisements for different locations. Instead, you can have a single advertisement for any number of locations and the advertisement will change automatically based on the geographical location where it is being displayed. Important local information such as the town or city, local business phone number and ZIP code will automatically be displayed in the advertisement's text. This is obviously far more convenient to the viewer than being given contact details for a company located in the other side of the country.
In order to enable the new location insertion tool, you will need to first set up and configure the location extensions feature. The localized version of the advertisement which appears to the viewer will change depending on their actual physical location and also by any location that they are particularly interested in (as determined by web search tracking).
The advanced location options of Google AdWords are user-friendly and fairly straightforward to configure. The location targeting tools allow you to target potential customers in three different ways: by physical location, by search queries regarding locations the web user is interested in and by using both options. It is also possible to use location exclusion methods to further customize your advertising campaign. You can learn more about the new features and how to use them at the Google AdWords support pages.
Guest post contributed by Carla Gregson, on behalf of Hanapin Marketing – providers of results-driven, service-orientated pay per click management services that help businesses grow.
John Rampton is a PPC Entrepreneur, Author, Founder at Due a finance company helping small business owners. Follow me on Twitter @johnrampton