One of the big pains I've had with online spending and using Google Adwords in the past is tracking all of the outgoing payments on a daily and monthly basis. It's not that the money flow is an issue, instead it's being able to really zone in on the spending amounts with Google, compared to everything else being placed on my business credit cards.
Apparently I wasn't the only one who felt this way and Google finally made a big improvement to their system by coming out with their own credit card for their advertisers.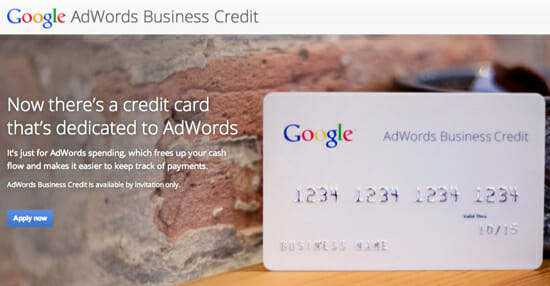 The concept is simple… create an Adwords account, apply for the Google Adwords Business Card and easily keep track of all of your spending. Since the card was created for Adwords users to keep all of their payments separate, you won't be able to use the card to pay for any other services or products.
Another benefit to the card is that it comes with a 8.99% interest rate, which is much lower than other comparable personal and business cards.
Other benefits of using the Google Adwords Business Credit are the following:
Improve your cash flow
Spend what you like on AdWords while freeing up funds on your other accounts for additional business purchases.
View your spending at a glance
Review your monthly AdWords payments on a single statement without sorting through other business expenses.
Add versatility to your budget
With no annual fee and a fixed 8.99% interest rate, you can choose to pay now or whenever it makes most sense for you.
Can you apply for the Google Adwords Business Credit Card?
I was going through a pile of mail and that's when I came across a postcard from Google and how I can get setup with their new card. When you head over to their site it has the option for you to "Apply now", but this doesn't mean you are going to get accepted. Google says that only partners of their who have received a notification about the card can apply for it. You can also contact them through their site to see if you can get approved.