The last PPC campaign I analysed in the 'Analyse A Real PPC Campaign' series was from Coral, who had an average search advert with areas of improvement but a very well optimised landing page that I am sure would have performed very well for Coral. In this article, since I am currently looking to buy a new piano at the moment, I thought it would work well to analyse a campaign about a product I am actually interested in, since this might give a better understanding of what the web user would think who is like-minded. For this reason, I will be analysing a PPC campaign by gear4music.
To view gear4music's PPC search advert, I had to type into Google search UK, 'buy piano':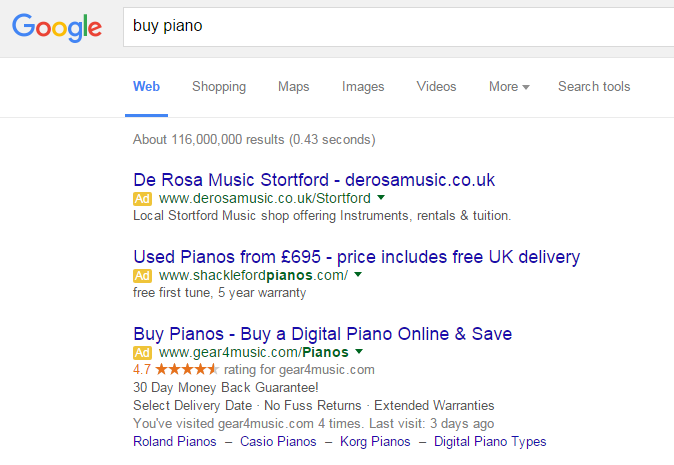 From searching for 'buy piano' I get the following adverts. The truth is that I actually want to buy a digital grand piano so it will be interesting to see if gear4music can guide me in the right direction by narrowing my search using their PPC campaign.
Looking at their advert, it appears it is contextual to what I want: a digital piano (although no mention of grand yet). The title is very effective and says exactly what I want to read. The same can apply for the description. For a pianist, to buy a piano online without actually playing it is very risky as every piano will have a different characteristic. So it is good that gear4music has a 30 day money back guarantee just in case you really do not like the feel of the piano.
The site link extensions are also a good ad extension to use for this advert since it enables the web user to narrow their search down. Since I want a digital grand piano, I am not going to click onto the title of the advert but the site link extension 'Digital Piano Types' since I feel this applies more to me.
I will be honest that this is not a good landing page especially with the fact that I used a site link extension to narrow my search down and find a digital grand piano. What gear4music have done is shown the web user a range of makes for digital pianos thinking that is what I wanted to see. However, I feel most people will only click on 'Digital Piano Types' to view the range of different types of digital pianos there are such as a grand digital, portable digital, upright digital, digital stage piano and so on.
The only way I can actually find a range of digital grand pianos is by clicking on the 'Pianos & Keyboard Types' in the search bar to the left to view digital grand pianos – this is not very good as it means I have to do extra work to see the products I originally wanted to see from clicking onto the site link extensions in the search advert.
This does bring a great point forward for advertisers that to take advantage of Site link extensions, when used, they need to be properly optimised. Make sure you are narrowing the search for web users when using site link extensions and that you push the web user onto the right landing page for the site link extension – if you don't, just like gear4music, it will affect your campaign for the worse.