The last PPC campaign I analysed in the 'Analyse A Real PPC Campaign' series was from Florida Tix, who had been savvy with the numbers that they used in their search advert to make them appear a cheaper and better solution to ticket prices, even though they were actually more expensive than their competitors. Looking at the landing page, Florida Tix had utilized bright colors and images to keep the web user's attention, to encourage them to buy tickets on their website.
One area that will always be in high demand is in buying cars, especially the second hand market. Looking into this sector, here is an analysis of a PPC campaign from Find and Fund My Car.
To view Find and Fund My Car's PPC search advert, I had to type into Google search UK, 'buy used car':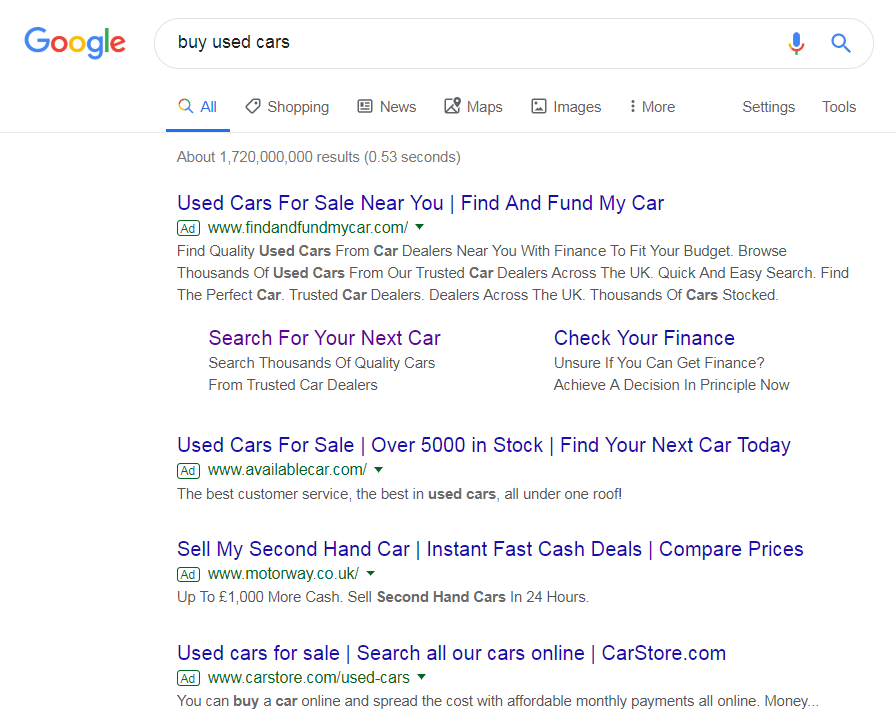 For such a competitive search phrase, it is no surprise that the maximum four adverts appear in paid search results. Find and Fund My Car managed to get the top position, suggesting a strong CPC or quality score, as compared to competitors. What is really good with Find and Fund My Car's search advert is the fact that they are the only search advert that has an ad extension. As well as increasing the number of links in the advert, helping to increase the CTR, the ad extension takes up more real estate in paid search results. This will help to increase the exposure the advert will get in general.
The search title is direct and to the point, with the information of Find and Fund My Car in the description and site link extension. This works to get the web user's attention, with the option to learn a little more in the description before clicking on the advert, if they should so wish. Compare this to the competition, which all have one line descriptions, and it makes Find and Fund My Car's advert look much more attractive.
After clicking on the above advert, I came to the following landing page:
As a landing page goes, this is a great example of a lead capture/click through page for the following reasons:
The image is great and really evokes emotions from the web user. It is a feel good image which will be linked to Find and Fund My Car. This is backed up with the text of stating the website offers 'feel good car buying'.
There is a lack of content on this page, which has been done on purpose. On lead capture pages, you don't want to confuse web users with lots of content, so they don't get swayed from entering the necessary information for a lead capture/click through.
It is not possible to scroll on this page, as well. This makes it crystal clear exactly what Find and Fund My Car want the web user to do.