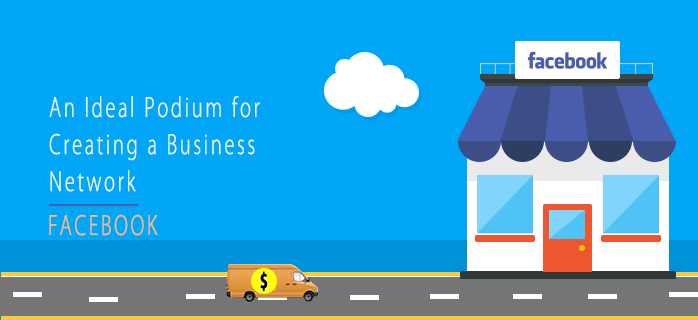 Facebook, emerged as a social media podium in 2004; has a vital role to play in creating a business internet marketing strategy. Though, a registered FB user can create business social networks for free, but they need to pay as per bid placed for boosting their ads on Facebook for generating the targeted audience with an aim to generate revenue from the product or service offered to end users.
Facebook business strategy can surely help you to a huge extent and help in accomplishing the objectives behind developing business contacts. Many young professionals between 25-35 years of age, look to create a business network on FB and the demographic results on Facebook social networking website, prove this statement.
You, as a Facebook user should be clear with the ideas and ambitions before getting started to create a business network on FB. You should be completely aware of the procedure to become a part of the business community by getting started with professional posting that includes a brief introduction about the company and its objectives as well as the product and services offered so that audience; who look to avail these services, can contact through the FB business page.
Check Out Why Facebook is The Best Chosen Podium to Create A Business Network?
There are certain things that need to be kept in mind before using Facebook as a business network
Get Familiar with Facebook Even if You Know About it: People these days are quite egoistic and think that they know everything and there is nothing left to know about. With things changing quite drastically, everyone has to be familiar with the changes that has taken place in the online world. Same is the case with Facebook. Assume that you don't know have much knowledge about creating a FB business network , the first thing that needs to be done is to understand its concept. There are certain other steps mentioned below that need to be followed to create an effective business network, which can help in accomplishing the objective.
Create a professional FB account by filling the sign-up form. All the details need to be provided carefully and user name should be matching your company's name. Enter the authentic date of birth that authorize you to create a FB account.
Take time to do proper analysis and then define your objectives as well as the steps to accomplish them.
Still, in case you are not able to understand what to be done to create a business network on a FB podium, then, look upon the Fb pages of leading companies and analyze their strategies, what they are actually doing to promote their new or existing products even after gaining a fame in the online and offline world.
Create an Impressive Business Profile for Networking
Take Time in Creating a FB Business page: Invest the much-needed time to create a Facebook page for customizing your business network in an attractive manner so that audience visit your page show interest in going through the visit by clicking on the "Contact us" Button. Keep interacting with the users who show interest in your FB business page and send some queries as consistent replies to their queries can help you build the reputation among users as they can keep availing services from you and refer their known ones to get subscribed with the products or services that your organization delivers.
Look up, for your business objectives: Business objectives need to be planned in a chronological order and effective steps need to be formulated to achieve those in quick time by attracting targeted audience.
Create a FB page or rework on the existing one: Consider your Facebook business page as an online resume or kind of business card. There are certain elements which are supposed to be a part of your professional page.
Do not opt for any other page if you do not have business page. Create a new business page or a personal page if you are not interested in creating a FB page. A personal page should not be including images of nudity, parties, night outs or vacations. It should actually contain information about you, your business, product or services offered and your organization goals.
Navigate to the General Settings and Privacy settings to keep control on how people can see your personal profile. Restrictions can be applied to users who are not added in the contact list as they cannot a view a bit of the information about the company.
You can create a Facebook business fan page with attractive logos as well as providing physical location of the organization that can be visible to the audience through Google Map. It is quite essential for developing a business online on the web.Invites can be sent to numerous people at a time, whether they are added in your contact lists or to their friends. People, who are unknown to you, can also Like your FB page and navigate to the website by clicking on the contact us button.
The info section on the personal page or business page of FB should be duly completed from your end as people generally go through this section at first instance. The incomplete or fake details mentioned in this section, grade the Facebook account as scam.
Start Business Networking using Facebook Podium
Look out for professional contacts and colleagues.
Use most sought-after Facebook sections to expand your contacts.
Navigate online for partners or important business in your area.
Post a subscription link to your blog.
Advertise or promote your Facebook page with website, newsletters and blogs.
Get a Facebook group created through a personal page.
Subscribe to other FB business groups that relate to your business.
Invite the FB personal contacts to visit the business page and know about the services offered.
Use events Application to invite your FB contacts to business or professional events that has been planned by your company.
Promote your Facebook ad to the targeted audience by placing a bid.
Look for communities or groups where you can find potential clients.
Maintain continuous Interaction with Customers.
All the major points really signify the importance of FB page and proves that Facebook is a best chosen podium for creating the business network online. Considering these above mentioned points and strategies underlined within, you can easily build a strong business network that help in generating more revenue from online users alongside offering quality services, whenever needed.
In order to create a Facebook business page visit at : http://igurus-inc.net/facebook-customer-support-number/
Angela, being a tech specialist; is quite passionate about writing blog posts on Facebook updates, and generally provide latest information related to Facebook and tips to create a strong business network on this social media podium. She always loves analyzing the new features and advice users to contact Facebook help desk team to get critical problems fixed before it gets too late.