I've been getting into Facebook Ads a bit over the past couple months.  A couple months ago Facebook launched Facebook Sponsored Stories which allows you to promote your brand to fans and friends of fans.  In this Facebook Ads case study we'll show you what's working with sponsored posts with one of our clients.
This is a real world example of Tareas Plus, an EDU site that's helping people to learn mathematics and physics.  I recommended that client starts doing Facebook Ads to get their online social media profiles going.  I personally think this is going to be huge for SEO in the future (though it's showing very positive signs right now). Here is the test that we did.
Test:  $500 Facebook budget.  3 Days  ($1500 total budget).
Pushing: Posts and site traffic.
Goal:  Increase interactions, gain traffic, increase brand awareness, make money.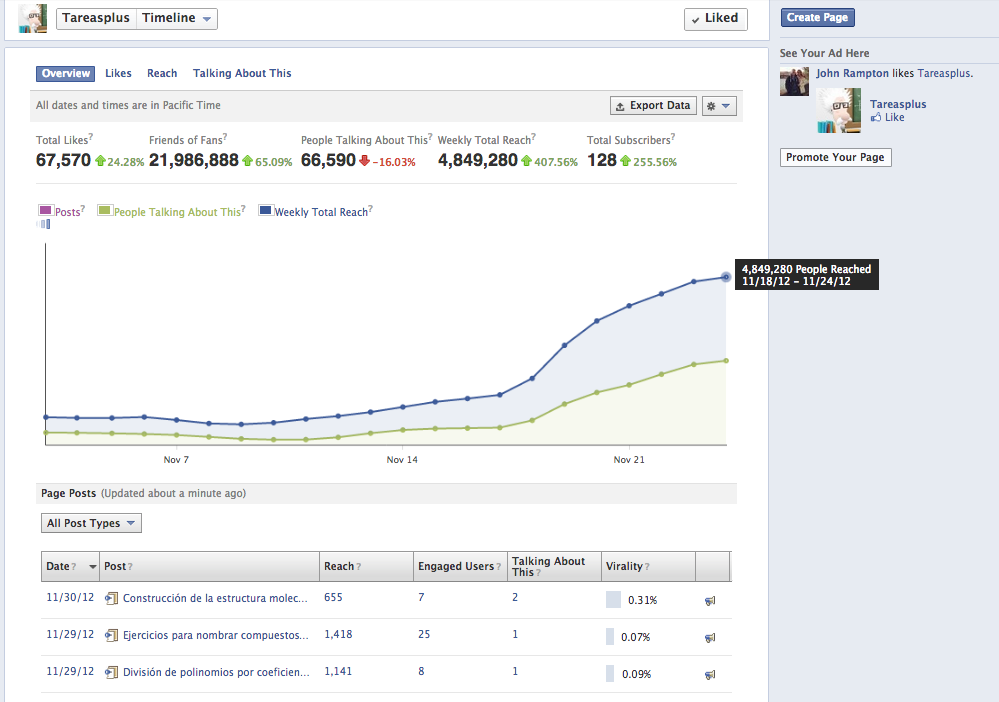 We started with a $500 Facebook budget.  We wanted to test this for 3 days.  I know this may seem like a lot of money to most of you but if you're spending $20k+ in Adwords or Bing Ads, you're already spending much more then that.  Heck, you're spending that daily.  We promoted a few videos and posts that we wanted to promote.  We went all in for 3 days.  Here is our site traffic during those days.
As you can see, we ended up having a spike in traffic over that day.  We went from 5-10K uniques a day to almost 50K uniques in 1 day.  The traffic did taper off the following 2 days but as you can see Facebook Traffic can be huge.  Another item to check out is that we had 4,849,280 impressions in one day.  That's almost 5 million people that saw our ad and were exposed to our clients brand.  If you aren't using this as another way for 5 million people to see your brand and proving that to your client you're not thinking right.  That's a ton of people that will know/recognize your brand for somewhere.  Next time they see your ad they will remember who you are (how I love the human brain).
Note:  I don't recommend running $500 in sponsored posts and in Facebook ads the whole time.  It will give good increases in traffic from time to time but not everyday.  You also need to have 2000+ Facebook Fans to be able to promote with Sponsored Stories.
Facebook Ads have helped Tareas Plus and several other of the companies that we work with to get a large increase of customers coming to their websites.  Give it a try or check out all the other Facebook Ads posts that we have!  Only time will tell if we can really trust all the impressions that Facebook is giving us but for me and my clients, Facebook ads is working, and working well!  See below how well!  Not to mention people from Facebook have a 20% less bounce rate then Google organic traffic.
Something else was cool, after we showed the numbers to our clients, they told us to keep going.  They gave us a $2000 dollar budget a month for Facebook Ads.  This has helped their business grow 10x over the past couple weeks.  Facebook ads is the reason even though I'd like to think it was me doing all the work and driving all the traffic! lol, good times.
John Rampton is a PPC Entrepreneur, Author, Founder at Due a finance company helping small business owners. Follow me on Twitter @johnrampton