The last PPC campaign I analysed in the 'Analyse A Real PPC Campaign' series was from Samsung Gear VR, who had a search advert that could have been better located (since it was at the bottom of paid search results) but recovered well with a nicely designed product landing page. With Christmas just around the corner, there are millions of PPC campaigns deployed at this time of year to take advantage of the holiday shopping rush. For this reason, I thought it would be a good idea to look at a PPC campaign for secret Santa gifts. Therefore, without further ado, here is an analysis of a PPC campaign from Elfster.
To view Elfster's PPC search advert, I had to type into Google search UK, 'secret santa':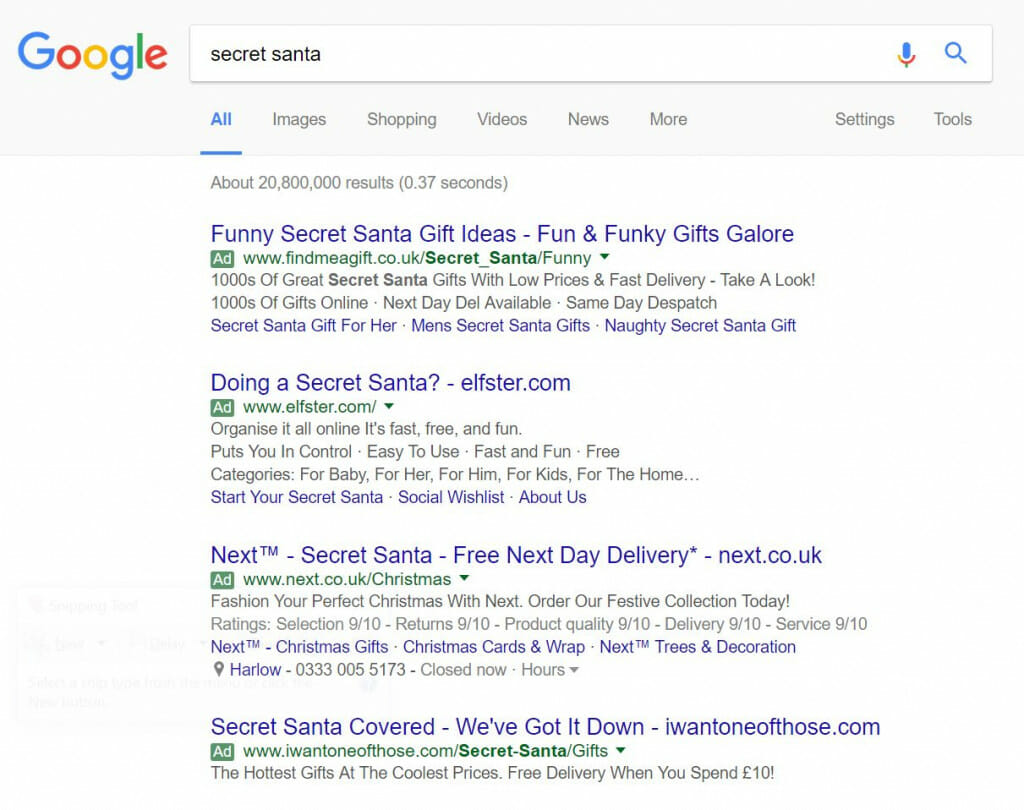 Straight away, we can see there is a lot of competition for such a search phrase and rightly so – the secret Santa market is a huge market to take advantage of for PPC advertisers.
Elfster have been clever with their search advert. By asking a question to the web user, it makes the web user want to respond, reply and engage with the advert for which the other adverts on display lack. As well as this, they have given some emphasis on their brand name by mentioning it in the title, which will give confidence to the web user that this is a good brand name for secret Santa.
Looking at the description, it contains short short snippets of information to provide the web user with lots of information in a short and concise way. It is also a three line description which is not that common for PPC advertising.
After clicking on the above advert, I came to the following landing page:

It is clear as soon as landing onto this landing page that this is a great landing page, with the main reasons for this listed below:
The large blurred out image of people opening presents up and smiling gives the impression that this type of secret Santa opening of presents is possible with Elfster, giving the web user more inclination to buy gifts for others from Elfster.
The choice of colour used on the landing page is very clever. Purple is generally associated with quality and wealth. Since secret Santa gifts are usually cheap and rubbish, it gives the impression the gifts you can buy from Elfster are of high quality.
The three boxes that flow below the fold of the content illustrate the three steps there are to using Elfster. The use of boxes make the process, provided by Elfster, for secret Santa seem much easier and more convenient. As well as this, from having the boxes slightly below the fold of the web page will encourage web users to scroll down, for which they will see more reasons to convert with Elfster for secret Santa gifts:

Elfster show that they have been seen on popular news websites, such as The New York Times for their business.
Quoted reviews from previously customers as to why Elfster was good.