It is very rightly observed these days that without relevant content and sharing of information, any website will not be able to survive the tremendous competition that has surfaced in the online marketplace. We all have become prone to the world of internet, and it is important for all of us to pay heed to the huge amount of information that is available in the online space these days.
Our generation is constantly in search of relevant content with valid information and appropriate tone that will drive our business as well as personal interests in a convincing manner. Blog posts can well be considered to be one of the pivotal resources that all of us today require to keep us updated about different resources in propriety.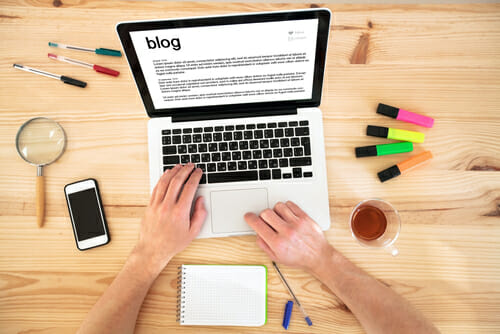 Businesses these days are putting more impetus to blog posts that will make them more engaging and personalized to a vast segment of users and content marketing is done in a unique manner with it. Blogs are necessarily not just a source of information or sharing of content instead it serves more value as a person gets a comprehensive understanding of a particular industry, the market trends and dynamics that are in vogue.
The biggest asset that blog serves is making your website more searched than it ever was before. It makes your presence credible as an expert in your industry who is well versed in the nuances and that eventually influences the buyer's decision to partner with you. You make yourself a recognized and trusted force in the market with your distinct practices and the plethora of information that you share with the audience.
The right connotations
The main purpose of blog most is to provide value proposition and give the audience information that they would like to know as well cater through the online sphere with their counterparts. It provides you with the excellent asset of connecting with your consumer base in a personalized manner that will help you earn business dividends in the long run. It will be interesting to know some common practices that will help your blog posts more intriguing.
Hooking your audience: Your headlines, as well as leading lines to the blog, holds the most importance as it eventually will decide the popularity of the blog. Try using probing questions that prick the minds of the audience or even you can start with a popular proverb that will drive interest and ask the audience to go through your blog post.
All words should impact: It will be best if you try keeping your blog crisp and short that will provide information in a lucid manner to the audience and they will understand the innate meaning without going round and round with unnecessary words. It is one of the best attributes that you can infuse to make the blog exciting. Leading blogs like www.every-record.com have embraced this idea.
Hit the meaning quick: There is no space for winding sentences these days. The short attention spans of the reader need you to hit the meaning and the purpose of your blog quick so that they get the readiness of your blog early and quickly acclimatize in accordance.
Analogical term usage: If you compare your article and complement it with the analogical term, it will intrigue the reader to a more serious level as they will start paying more attention and start loving the craftiness of your writing and construction of the blog in every possible way.
Accordingly, blog posts will start improving if you carefully narrate the information in a storytelling manner with candid references that lighten up the tone of your blog and makes it more attractive. Try finding new motivations or angles that will excite the audience alongside a strong end that will have a reason to justify your information described above.