The last PPC campaign I analysed in the 'Analyse A Real PPC Campaign' series was from Razer, who had a PPC campaign competing directly against Google shopping results. The problem with this is that Google Shopping results are going to genuinely be more appealing, mainly due to having pricing, reviews, images, plus it will always be above paid search results. When looking at Razer's landing pages, there were a few areas of improvement too, making the campaign an 'okay' campaign overall.
One area of interest that has picked up since the lockdown caused by Coronavirus is in food deliveries. With this, here is an analysis of a PPC campaign from Eat Fruit.
To view Eat fruit's PPC search advert, I had to type into Google search UK, 'fresh fruit delivery':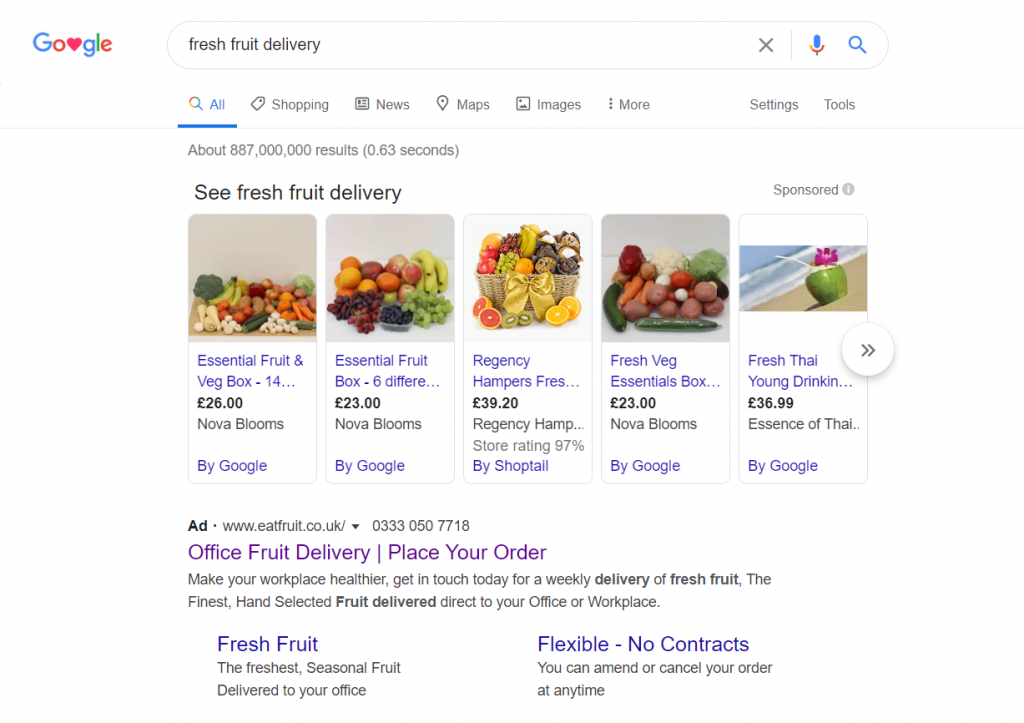 Although mentioned above that it is difficult to compete with Google shopping results, part of that statement depends on the content that is being competed against – for food deliveries, people will want repeated deliveries, and choice of the fruit they want to buy, rather than a set pack. For this reason, it could work in Eat Fruit's favor, that the Google Shopping results displays results for 'essential' and predefined food boxes.
Look at the advert itself, it is a generally well designed PPC search advert, with a call to action in the title, addition of site links extension, and a phone number to ring too.
The only issue for me is that they are targeting work fresh fruit, not fruit for home. This could therefore be an example of a PPC campaign that is targeting too vague keywords (as there could be many people not looking to buy food for work, but food for home). Paying for traffic that is not completely related is going to cost a PPC campaign money.
After clicking on the above advert, I came to the following landing page:
Forgetting the vague keyword targeting, the landing page is very pleasing to look at. The inclusion of colorful fruit is a must, especially showing them in boxes that illustrate how they could be delivered to your doorstep.
This is an example of a lead capture page, where the objective is to get the web user to fill out the 'Quick Quote' box to get details of how Eat Fruit can provide fresh fruit for the web user. Taking this into consideration:
Having the lead capture form appear partially below the fold will not be helping the conversion rate of this landing page. It would have helped to make sure the form is always above the fold of the above, in full exposure and view of the web user.
The incentives above the form are well designed, with images, which are a good way to reduce bounce rate, whilst also increasing the engagement level of the page.
The menu is simple in its structure of links, which emphasizes the lead capture. Having a link heavy menu would not have worked on pages such as this, so its good Eat Fruit have kept it simple.