The last PPC campaign I analysed in the 'Analyse A Real PPC Campaign' series was from Candles Direct, who had a PPC campaign for a brand of candles, that used the incentive of it being at a discounted rate to attract web users into a click. This was an example of web users that had determined what they wanted to buy, where Candles Direct tried to appear the cheapest option to buy the product.
With everyone at home at resorting to other type of entertainment, such as movies, TV series and gaming, one area that could be popular on the internet comes with gaming headsets, to communicate with your friends whilst playing video games. With this, here is an analysis of a PPC campaign from Razer.
To view Razer's PPC search advert I had to type into Google search UK, 'gaming headset':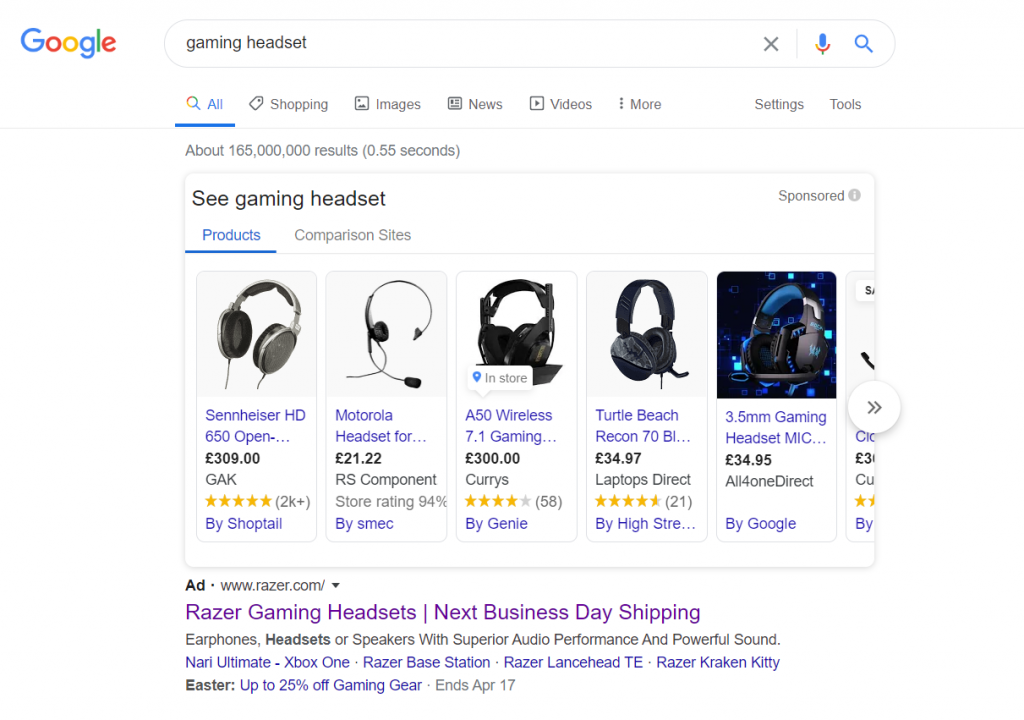 Just like with Candles Direct, Razer faces the touch competition of competing against the Google Shopping Results. With Candles Direct, they chose to use discounts to attract web users. In Razer's situation, they have chosen two main areas to attract websites:
The brand name – Razer is known for having high quality products for gaming.
Shipping incentive, that you can still get it next day, even throughout this coronavirus crisis.
On top of this, Razer have used the site links extension, plus an offer, to further entice web users with the types of products they have, and a potential discount that could be applied to some products.
On the whole, with Razer, due to their high valued brand name, they don't specifically need entice web users much with any other method, since they can do this with the brand by itself.
After clicking on the above advert, I came to the following landing page:
As a landing page goes, this is a good example of a click-through landing page, but does have some areas of improvements:
The colours are really enticing and visually pleasing, encouraging the web user to stay on the page.
The menu Razer have used expands upon hovering, which allows the web user to explore any part of the website from this landing page.
With part of the image appearing below the fold, there is encouragement for the web user to scroll below the fold of the page, where they will be greeted by more products from Razer.
However, considering the web user searched for 'gaming headset', Razer should have displayed this as the main product on the landing page, not earphones or a mobile phone. Headsets typically are over-ear headphones.
As well as this, the buttons above the image highlight the different types of gaming headsets Razer sell. This is really good, so it is a little frustrating that it blends with the background so that it is not as noticeable. With click-through buttons on a landing page, they should be big, bright and bold, so it is obvious to the web user what to click onto (and what the advertiser wants the web user to click onto too).