One of my favorite web sites just went through a complete redesign and I thought it was so much improved, that it granted a blog posting. NameJet is a domain auction house and expiration web site. If you ever wanted to have a domain name, but someone else already owned it… NameJet is the service you are looking for.
What is the domain name aftermarket? NameJet sums it up best…
Every day thousands of short, memorable and highly brandable domains expire. As the exclusive aftermarket vendor for many of the world's top 10 registrars, NameJet is your source for the biggest selection of the best previously owned domain names.
In short, NameJet will seek out any domain names you want to monitor, and if they ever become available, you will be notified and possibly become the new owner of the domain name you always wanted! I've personally secured some really great domains through NameJet, and I'm really excited about their new web site, as I visit their site several times per week.
If you've ever been to their site before, you will appreciate the new design and ease of navigation through the site and domain sorting. The new design is also mobile friendly, so you can start monitoring expiring domain names while on the go!
You can view the old and new designs of NameJet below.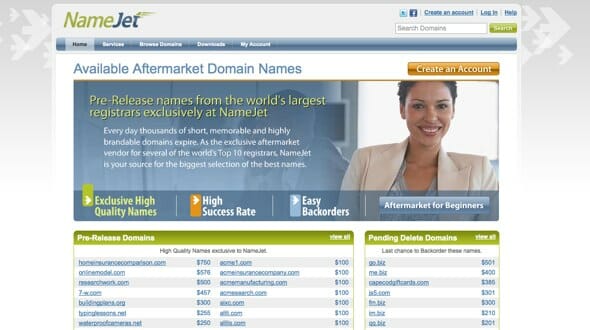 NameJet Old Design
NameJet NEW Design
If you've never been to NameJet before, be sure to check out their web site and start bidding on some really great domain names that you may have thought weren't obtainable!