For many brands, Facebook is the top source of sales through social media. However, Pinterest has now proven its ability to drive sales, and it may only be a matter of time before Pinterest leads to more sales overall as its user base grows. In fact, recent reports show that Pinterest may be on track to top Facebook in online sales conversions.
Pinterest Leads to Sales and Referrals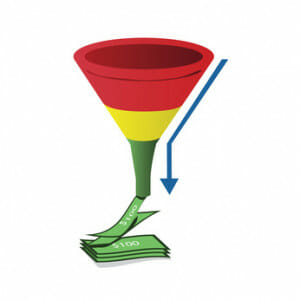 Brands, marketing firms, and researchers are now tapping into some hard data that is giving an encouraging picture about the prospect of using Pinterest for driving sales. The site reports, "32% of online shoppers have made a purchase based on what they've seen on Pinterest and other image-sharing sites, according to a new survey from Bizrate Insights."
However, that's not what's really shocking. tosses around some staggering numbers about the effectiveness of Pinterest, which "sends more referral traffic than Twitter despite having a user base only seven percent as large as the microblogging service's numbers. That was one of the findings in a study released last Wednesday by Eloqua as part of a product launch, which also found that Pinterest is responsible for as much referral traffic as Facebook despite having just 1% of the user base of the social media heavyweight."
If you are selling the right product (especially jewelry or clothing), Pinterest is extremely effective at driving more traffic to your landing pages.
Traffic to Brand Websites Is High Even if Conversion Rates Are Low
Even if Pinterest doesn't have the critical mass of Facebook, it still drives a lot of traffic. You may read that the conversion rate from Pinterest is low, but what makes Pinterest effective is that the sheer volume of referrals is enough to make any conversions from those referrals significant for brands.
Miranda Miller of writes about her interview with Steve Gerenscer from Steam Driven Media, "Gerenscer shared a number of client stories, including one of a fitness site that had 73,000 unique visits from Pinterest in 20 days, 95 percent of which were new visits. The mobile Pinterest site drove an additional 6,324 visits. He noted that they were converting at about 1 percent, which was lower than their conversion from other channels. The sheer volume more than made up for the lower rate."
What You Sell on Pinterest Matters
Despite some brands reporting low conversion rates through Pinterest (about 1%), certain products generate higher sales through Pinterest promotions. Gerenscer also shared with , "The average conversion rate from Pinterest traffic to jewelry sites [is] 4 to 5 percent."
A recent report by Gigaom backed the effectiveness of Pinterest for jewelry sales with a report that "Jewelry and accessories website Boticca.com… compared 50,000 shoppers referred from Pinterest to 50,000 shoppers referred from Facebook and said the Pinterest users spend [on average] way more money — $180 vs. $85 — but less time browsing the site."
Pinterest is ideal for companies in the clothing, food, jewelry, and home goods niche, and as brands develop their strategies for Pinterest, they will be able to pinpoint which products will perform best on pin boards.
Pinterest Is Catching Up to Facebook
Reports and experiences will vary depending on whether Pinterest is driving more sales than Facebook. Sometimes it will hinge on the company's strategies for each platform, while other times the product will make a big difference.
However, according to Search Engine Watch, Pinterest is on the rise. Jeffrey Zwelling from , notes that "his company has seen social media revenue for e-commerce sites from Pinterest increase from 1.2 percent in Q2 2011 to its present high of 17.4 percent." That's a staggering leap!
Pinterest is also far more effective at driving first click conversions according to Convertro. Zwelling notes, "We found that Pinterest generates over four times as much revenue per click (attributable to first touch) as Twitter and 27% more revenue per click than Facebook."
If you sell the kinds of products that fit on a Pintertest pin board, make sure you take advantage of Pinterest's high conversion rates for your next social media marketing campaign.
This guest post is written by Lior Levin, a marketing consultant for a company that specializes in a task management tool for individuals and businesses, and who also consults for a neon sign store that provides a variety of custom neon signs.