Today's doctors work in a world where your virtual reputation has just as much, if not more, importance than your word-of-mouth reputation. Now that doctors have caught on to using social sites like Facebook and Twitter, patients should stop to wonder whether that's really the smartest way to choose their physicians.  For now, it looks like doctors and social media are inseparable.
Doctors Have to Treat Their Practices Like Businesses
Image resource: parasolfinancial.com
It's not surprising that so many doctors have invested in search engine and social media optimization methods to boost their online visibility. After all, physicians are reminded time and time again that they run businesses.
That means they have to get out there and compete like other businesses. Tweeting ads to attract more followers, creating websites to advertise services, and starting Facebook pages to keep in contact with clients are just a few of the methods that physicians use. They hope that potential patients will pull out their cell phones and see why they should choose one doctor's office over another.
Do Referral Networks Still Work?
Image source:healthcare.intuit.com
Referral networks still play an important role in how patients choose their doctors. Most health insurance companies require their policy holders to use in-network physicians. Stepping outside of that network means higher prices that the insurance companies will not cover.
Assuming that current laws stay in place for the next several years, more people will have insurance in 2014 than ever before. That will mean that referral networks play an increasingly important role in how people choose their health care providers.
How Does This Affect Patients?

Image resource: myhousecallmd.com
It's hard to say whether it hurts patients when doctors use social sites. There is the possibility that you might choose a doctor based on a misleading advertisement cunningly disguised as social media. Having a good ad campaign doesn't necessarily mean that a doctor meets your needs.
Then again, referral services aren't necessarily much better. Most referral networks will direct you to a physician because of what medical group that doctor works for rather than because he or she is the best doctor for you. Doctors and social media together can influence patients to an extent, but ultimately results determine the success of a particular doctor.
Making a Better Future for Doctors and Patients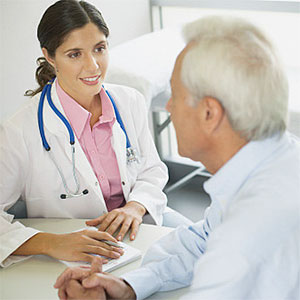 Image Resource: money.msn.com
It's always been hard to choose your doctor. Some people get lucky and find the perfect physician on the first try. Others spend years seeing a doctor that they don't like. The fact of the matter is that many people don't feel empowered to choose their own physicians.
They figure that one doctor works as well as another.
This realization shouldn't leave patients disheartened. Once you know where you are, you can start planning a strategy toward something better.
Setting Guidelines for Online Behavior

Image Resource: marketingsavant.com
The good news is that the health care industry has always been susceptible to heavy regulation. If you don't like the current situation, then you can push for something better. Perhaps the American Medical Association could establish ethical codes that prevent doctors from using underhanded advertising techniques on social media sites.
The Federation of State Medical Boards has already published guidelines addressing inappropriate online behaviors that have gotten some doctors into a lot of trouble. Hopefully, more organizations will follow this lead to take control of how doctors use the Internet to communicate with and attract patients.
Currently this is a rather uncharted area of medical ethics, but the industry and its regulators will find a useful solution at some point in the future. Doctors and social media are both things the world needs, but a smart social media campaign  should not be the only factor that determines a doctor's success or a patient's decision.
This guest post is by Shaun Chatman from Dunedin, FL. Shaun is crazy about his two kids and gadgets, and spends his free time advising friends on affordable Blackberry cell phones.
Shaun Chatman is a freelance writer by night and a gym trainer in the day. A father of two gregarious kids, Shaun lives in Dunedin, FL, and spends his free time playing with his kids or writing about gadgets.