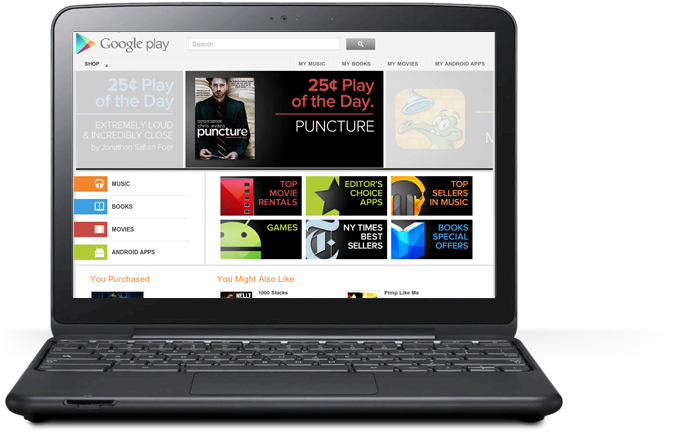 Earlier today, Google announced that it is changing the name of its Android Market to Google Play, a move to get them more money!  Google is now entering the same market as Apple's iTunes Store and Amazon Marketplace.
I think this is a bright move for Google.  Naturally you would think that they are trying to movie from the online PPC world to a more sustainable long term option.  Not that PPC management isn't a long term action but it's not going to be there forever.  People love music and will always love music.  They will always be downloading it, with clicking on ads will become less and less over time due to ad fatigue.
"This is really an acknowledgement that these experiences are relevant not just for a mobile environment but across the web," said Jamie Rosenberg, Google's director of digital content.
With Google Play you can:
Store up to 20,000 songs for free and buy millions of new tracks
Download more than 450,000 Android apps and games
Browse the world's largest selection of eBooks
Rent thousands of your favorite movies, including new releases and HD titles
On your Android phone, tablet, or PC computer, Google will be upgrading the Android Market app to the Google Play Store app over the coming days.  You can see the full list of Countries that allow this below.   All your your videos, books and music apps  that you have already downloaded will also be upgraded to Google Play Movies, Google Play Books and Google Play Music apps. You should still be able to access these by logging into your Google Account.
Google doesn't sell content in all countries, so here's the rundown on what Google Play will offer depending on where you are:
US: Apps, Movies, Books, Music
UK & Canada: Apps, Movies, Books
Australia: Apps & Books
Japan: Apps & Movies
Others: Apps
Here it is by content type:
Apps: US, UK, Canada, Australia, Japan and many other countries (not all countries can buy apps)
Books: US, UK, Canada, Australia
Movies: US, UK, Canada, Japan
Music: US
Below is the video release, hope you all enjoy!

John Rampton is a PPC Entrepreneur, Author, Founder at Due a finance company helping small business owners. Follow me on Twitter @johnrampton