The last PPC campaign I analysed in the 'Analyse A Real PPC Campaign' series was from Find and Fund My Car, who had a search advert that used ad extensions to differentiate it from the competition. As well as this, the landing page used a background image to evoke an emotion from the customer, encouraging them to convert for Find and Fund My Car.
One type of holiday destination that is always in high demand is Centre Parcs – a holiday retreat to the forest to relax and do activities. Looking at alternatives to Centre Parcs, here is an analysis of a PPC campaign from Darwin Forest.
To view Darwin Forest's PPC search advert, I had to type into Google search UK, 'centre parc alternatives':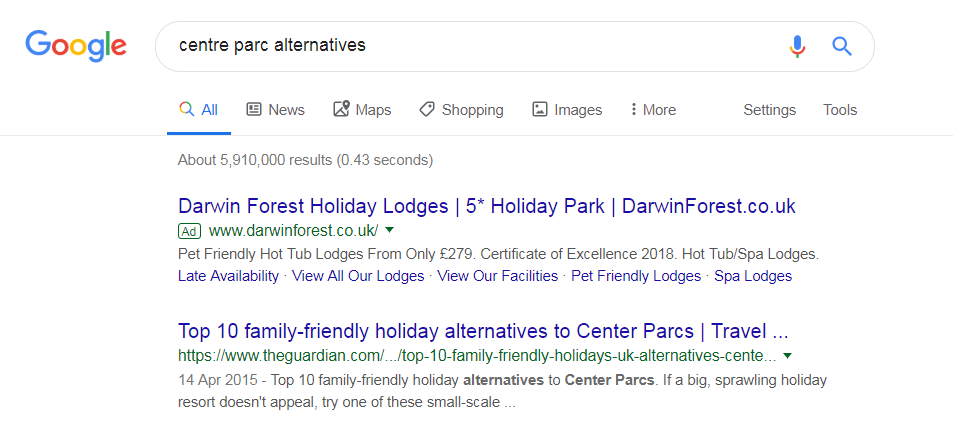 Centre Parcs is a clear market leader in forest retreats, so it was surprising that other competitors did not choose to bid for this search phrase – the fact that it was only Darwin Forest means the CPC they can now adopt, due to a lack of competition, can be extremely low – this will help increase the traffic to their landing page, as well as improve their return on investment for the PPC campaign.
Looking at the advert itself, it is very heavily focused on Darwin Forest as a brand name. The description goes into a little detail as to what to expect from the forest retreat. The site link extensions are applicable to click onto for the web user, making the whole PPC campaign an appealing attraction for the web user to explore.
After clicking on the above advert, I came to the following landing page:
This is an example of a lead capture landing page, and is an effective one at that the following reasons:
The landing page is taken up by a large background image, illustrating what to expect with Darwin Forest's lodges. Couple this with a slideshow of images, and they are onto a winner.
The lead capture is clearly defined to the right, with the bare essentials information to show results for – it can be very tempting to ask for more information than is necessary from the web user. However, the more information you ask for, the less likely web users will fill it in.
There is an ever-so-small amount of text appearing above the fold, but below the fold too. This does encourage the web user to scroll down, if they do not want to fill out the lead capture, or are not convinced enough to. By doing this enables the web user to further explore what Darwin Forest has to offer, before committing to filling out the lead capture to see lodge results.