Landing pages are always going to be one of the most important aspects of online marketing. It doesn't matter if you are focusing on PPV, PPC, media buying, building your mailing list or all of these method… landing pages can help increase your conversions no matter the offer.
As great as landing pages are, they can be a real pain in the butt to create. Especially if you aren't a designer and hate coding!
There are lots of landing page programs out there but many of them aren't that great. I've done reviews on different landing pages in-browser creation services and these are always my favorites. There is no need to download or install any software and it's always a breeze to put great looking pages together.
Today we are going to take a look at ClickThroo.com, which is a web based landing page creation service.
You can watch the short video below for a full 10 minute tutorial or jump down to my quick little tutorial.
Signing up to ClickThroo.com was a breeze and best of all they have a 14 day free trial, no cc required!
Once you are logged in you just need to click a few buttons based on the type of campaign and tracking you want to setup, then you will be sent off to the design editor.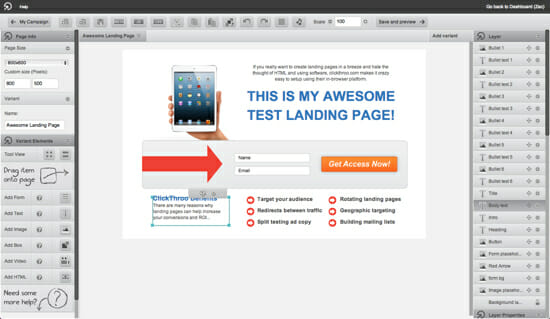 Everything in this area is pretty self explanatory and you can get quite fancy and advanced with the many different features.
After just a few minutes of playing around I was able to create the following landing page example. (mobile landing pages also available)
Here's what I can tell you about this landing page… it's dead simple and effective. What's most important about it is that it was really fast and easy to create and I didn't have to mess around with any coding or anything. Years ago I would have had to spend an hour making this in Microsoft Frontpage! Even if I attempted to make something like this in WordPress it would still be a pain in the butt and take me a while to make it look right.
 Sure, ClickThroo.com is cool for making quick and easy landing pages but what else can it do?
Of course an advanced landing pages system wouldn't be that beneficial unless full monetization and stats tracking were in place.
In addition to full stats tracking, ClickThroo.com also offers the following:
Complete Landing Page Marketing Platform – hosted (on the Rackspace Cloud), without the need for any third-party software
Landing Page Builder – easily build smart and effective landing pages, multi-step pages, and minisites without a need for the I.T guys
Landing Page Templates – get started with our selection of 100+ templates (including mobile landing pages)
A/B Testing – publish, then set your variant weighting and leave it to run
Auto-optimization – set campaigns to optimize by conversion/click-through rate on the fly
Landing Page Segmentation – show specific landing pages to different segments. Over 20 different filters to segment visitors by
Live View – watch the activity of your page visitors in real-time in Live View mode
Affiliate Marketing Module (optional) – integrates with the major affiliate networks and provides an offer comparison engine, receive alerts on scrubs and changes in offer details, automatic commission tracking (no need to place tracking pixels) and much, much more.
Tracking & Reporting – full ROI tracking & reporting suite, including over 20 different report types and hundreds of custom report combinations.
As mentioned, it's free to try ClickThroo.com out for 14 days. If you decide to become a paying member, monthly packages start out at $49 a month and scale upwards depending on your required traffic and monetization needs.