No matter what type of ad campaigns you are handling, nor the size of your budget, you may always be thinking about the idea of outsourcing your PPC management to another PPC agency to create and manage your ad campaigns. There is a new free guide that was released from Wordstream, which is a quick download and read, but also offers some great information to help you decide if you would like to manage your ad campaigns or choose a PPC agency.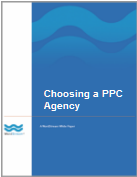 Some of the reasons why you might be looking for a PPC agency are…
You don't have the time to manage your PPC account(s) in-house.
You don't have the expertise to effectively manage your paid search campaigns internally.
Your current advertising agency doesn't specialize in PPC, and you're concerned that either or both of these first two are also true of them.
After reading this guide, you'll understand:
If you really need to outsource your PPC campaign management
What qualities you should be looking for in a PPC agency
What questions to ask potential PPC agencies
Whether you are managing your own PPC ad campaigns or looking to hire an outsourced party, be sure to this free guide today to find the best agency for you.